In 2015, CUPE members were well equipped to fight to win on the picket line. Members could count on the solidarity and support of CUPE leaders, locals and staff, other unions, community members and the solid backing of our $80-million national strike fund.
CUPE National funded 15 strike-averting campaigns totalling nearly $1.9 million, helping members resist cuts and concessions at the bargaining table. And we supported 13 fights that continued on picket lines, with another $1 million in funding for communications and mobilization work to end disputes.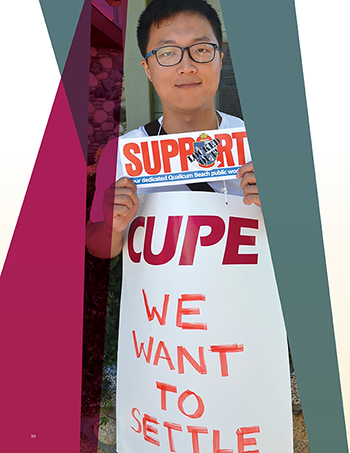 CUPE 608 - Naramata Centre
On strike May 15, 2014, out for 318 days
The 30 workers at this BC retreat waged a 10-month fight that continued even after the United Church closed the centre. The workers went on strike in response to plans to replace long-term staff with lower-paid, non-union positions. In April of this year, CUPE and the employer reached an agreement that recognized members' years of service and contribution.
CUPE 7000 - Southern Railway of British Columbia
Locked out January 5, out for 119 days
CUPE 7000 members were able to stay one step ahead of their private sector, anti-union employer through a four-month lockout, fighting to address health and safety issues and holding the line against two-tier post-retirement benefits. Through labour board and other legal challenges, CUPE put a stop to the employer's use of scabs – in the process, making new and improved picketing law. The union was also relentless in pointing out the safety issues the lockout created. The 126 members won a contract with increased wages and no takeaways.
CUPE 2019 - Town of Happy Valley-Goose Bay, NL
Locked out January 13, out for 34 days
The 43 members of CUPE 2019, workers in the Town of Happy Valley-Goose Bay, weathered a 34-day lockout in the middle of a harsh Labrador winter to protect their defined benefit pension plan.
CUPE 6447 (Hospital Employees' Union) –Stz'uminus First Nation Health Centre
On strike January 29, out for 43 days
A long and difficult six-week strike by CUPE 6447 members on Vancouver Island ended with an arbitrated settlement. On the key issue of hours of work and paid lunch breaks, the settlement favoured the employer, but our 21 members received significant signing bonuses and retroactive wage adjustments.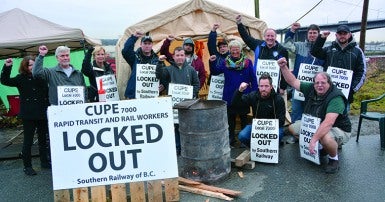 CUPE 227 - Halifax Regional Water Commission outside workers
CUPE 1431 - Halifax Regional Water Commission inside workers
Locked out May 19, out for 59 days
CUPE 1431 and CUPE 227 defeated a plan by the Halifax Regional Water Commission to gut their defined benefit plan. The members resisted cuts that would have hit youngest members the hardest.
CUPE 3902 - University of Toronto
On strike February 27, out for 28 days
CUPE 3903 - York University
On strike March 2, out for 29 days
Nearly 10,000 teaching assistants and contract academic staff at the University of Toronto (CUPE 3902) and York University (CUPE 3903) went on strike to ensure wages would not be eroded by tuition increases, and end precarious working conditions. The strikes successfully highlighted the issue of low paid, insecure and precarious employment on campuses across Ontario. Members of both locals returned to work with improved wages and better job security.
CUPE 101 - City of London, ON
On strike May 25, out for 62 days
London's 750 inside municipal workers went on strike against an employer determined to get contract takeaways and break the members' spirit, including by hiring scabs. The members stuck together and achieved a new contract that was vastly improved from the proposed contract tabled by the employer prior to the strike.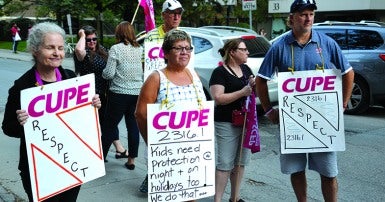 CUPE 873 - SN Transport LTD, BC
On strike June 2, out for 5 days
Members of CUPE 873-03 went on strike to reach a first collective agreement, after joining CUPE in July 2014. The 115 members work as patient transfer drivers at the private company. The strike ended in a first contract with yearly wage increases, as well as improvements to hours of work, vacation leave and sick time.
CUPE 2316 - Children's Aid Society of Toronto
On strike July 27, out for 97 days
The 15 part-time emergency after-hours workers went on strike after trying to reach a first collective agreement for over two years. After three months on the picket lines, and several failed mediation attempts, CUPE 2316-1 agreed to arbitration to ensure children and families in crisis could get the help they need.
CUPE 401 - Town of Qualicum Beach, BC
Locked out July 31, out for 35 days
In the town's first-ever labour dispute, members were locked out when they rejected a deal with a lower wage increase than neighbouring municipalities. The 75 workers, 20 of them seasonal, had been without a contract since 2013. With the help of a mediator, the local reached a deal that includes the wage increase they proposed.
In Quebec, 30,000 CUPE health care, social services and education members in 97 locals were on rotating strikes in October and November, and went on a one-day province-wide strike in December. They were part of an unprecedented mobilization of 400,000 public sector workers in province-wide bargaining. Negotiators for the multi-union Common Front reached a tentative agreement with the province in December.
We are well equipped to fight to win on the picket line. 
Solidarity was also strong at the University of Northern British Columbia, where CUPE 3799 members walked picket lines May 5 to 19. The support staff went out in support of striking faculty association members.
Finally, Montreal's 8,000 inside municipal workers held a half-day strike in December, the first of many rotating actions planned for the new year. The CUPE 429 members have been without a collective agreement for four years. The city is demanding cuts that will impoverish the workers, and at the same time pushing for more privatization.