Defending the rights of workers around the world is at the heart of CUPE's global justice work, and the foundation of our solidarity. In 2015, CUPE joined with workers around the globe to defend human rights, strengthen the union movement, and resist privatization and cutbacks.
Through our affiliation with Public Services International (PSI), we continued to build a more connected and powerful movement to defend trade union rights and public services. This year, CUPE joined unions from North, Central and South American and the Caribbean at the PSI Inter-American Regional Conference in Mexico City. The focus was on trade union rights as the key to quality public services. CUPE also participated in an anti-privatization strategy session of PSI leaders in Washington.
CUPE's Global Justice Fund helped CUPE members connect with workers in Colombia, Cuba, Honduras, the Philippines and Nicaragua to learn and draw inspiration from their struggles. In 2015, the fund supported eight projects that together helped advance labour and gender rights, build trade union capacity, fight water privatization, promote public services and raise awareness among CUPE members.
CUPE was also part of several solidarity delegations in 2015. In July, CUPE joined three other Canadian public sector unions in a delegation to meet with Colombian unions fighting privatization and defending human and labour rights. And in October, CUPE participated in a Stephen Lewis Foundation delegation to the National Grandmothers Convening in Uganda. The gathering of nearly 500 grandmothers aimed to strengthen local and national networks fighting HIV/AIDS.
Defending workers' rights around the world is the foundation of our solidarity. 
CUPE helped bring a broad range of international speakers to our conferences and conventions this year, including at our national convention in Vancouver. International leaders from Greece, the United States, the Philippines, Colombia, and the United Kingdom as well as PSI General Secretary Rosa Pavanelli wove issues of international solidarity and our common struggles throughout our convention.
Some international guests, including Greek water worker Yiorgos Archontopoulos and Philippine teachers' union leader Benjamin Valbuena, brought their stories of fighting privatization and promoting human rights to CUPE locals and community allies outside the convention program.
In September, CUPE took action on the Syrian refugee crisis. Our National Executive Board passed a resolution calling for improvements to Canada's immigration and refugee policy, and to redirect public funds from military aggression to helping refugees. CUPE also donated $25,000 to a CLC fund supporting the Canadian Council for Refugees.
When two earthquakes devastated Nepal in late April and early May, CUPE was ready to help. CUPE National and CUPE BC each donated $25,000 to Oxfam Canada's relief efforts, with the Hospital Employees' Union contributing a further $15,000. CUPE National also donated $10,000 to the PSI Aid Fund for Nepal.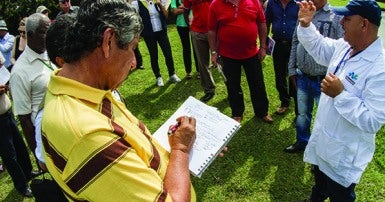 Other ongoing solidarity work includes:
Supporting the Bangladesh Workers Solidarity Centre
Fundraising and advocacy for Deepan Budlakoti, an Ottawa-born man who the Canadian government is trying to deport to India, a country where he has no family, has never lived, and is not a citizen
Campaigning for the release of two COURAGE union activist imprisoned in the Philippines for three years
Our global justice work will be guided by convention resolutions to strengthen the Global Justice Fund, deepen our solidarity with migrant workers, fight trade deals that put corporations ahead of people and the planet, and challenge Canadian military aggression.