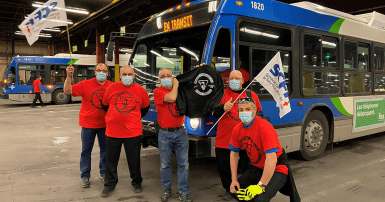 Unable to come to an agreement at the bargaining table, bus drivers with the Société de transport de Laval (STL) have announced they will be striking two more days; next Saturday, December 18 and Sunday, December 19, which means there will be no public transit in Laval on both days.
"We are not happy about being in this predicament. Management is not making the effort necessary to ensure public transit service for citizens of Laval. With the current wage offer and at a time of high inflation, our workers will be headed toward poverty," said Patrick Lafleur, president of the Syndicat des chauffeurs de la STL (CUPE 5959).
The union also denounced the fact that the employer made the dates of the strike days public before the agreement between the parties on essential services was ratified.
"That's not behaviour you want to see when the objective is to wrap up a difficult negotiation," added Patrick Lafleur.
The STL has turned a deaf ear to the demands put forth by union, which has in hand a strike mandate that received 99 per cent support from the membership in January 2021, in spite of several concessions it has made.
"In 2021, public transit should be of utmost importance to all cities the size of Laval. A green economic recovery cannot occur without public transit," said Patrick Lafleur.