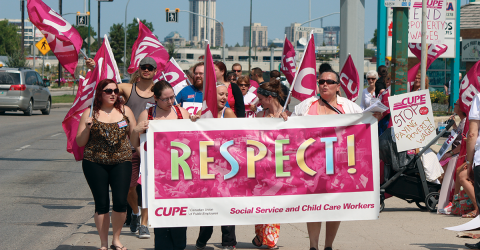 Sarah Ryan | CUPE Research
Developmental services workers will be seeing much needed wage increases in Manitoba and Ontario. The Ontario government allocated $200 million over three years in their 2014 budget for frontline community and developmental services workers, while the Manitoba government announced $6 million over three years for support workers in August 2014. For a sector that's been chronically underfunded over several years, these increases will have a huge effect on collective bargaining.
In Manitoba, the additional $6 million will raise the amount the government provides for wages of developmental services workers to between $13 and $14 an hour by 2017. These figures are still significantly below the $18 an hour minimum CUPE members are fighting to achieve by 2018, but it's a start. Ontario workers in the sector are also expected to see a wage increase, but the ministry has not yet released details of the funding allocation, and bargaining is ongoing.
Issues in the sector
Bargaining wage increases is extremely difficult in underfunded sectors. Many developmental service facilities have difficulty retaining dedicated staff due to low wages and poor benefits, which affects the consistency of care for those with intellectual and developmental disabilities. Workload issues and insufficient staffing affect the quality of services and supports. A survey of developmental service organizations by Ontario Agencies Supporting Individuals with Special Needs showed that many are cutting hours of staff and eliminating or not filling open positions, in some cases even for women on maternity leave.
Mobilizing on the ground
These budget increases would not have been possible without ongoing and concerted pressure from CUPE members who work in assisted community living (ACL) facilities supporting individuals with intellectual and developmental disabilities. Workers knew they needed to mobilize politically in order to set the stage for collective bargaining.
Members of CUPE 3085 at the ACL in Selkirk, Manitoba planned to go on strike the day after the scheduled government funding announcement, following a 94 per cent strike vote. They had already held information pickets on July 15 and 22, and demonstrated outside the office of NDP MLA Kerri Irvin-Ross, the Minister of Family Services and Housing. But the government's course change meant the strike was no longer necessary, and brought welcome relief after several years of lobbying to improve conditions for workers in the sector.
January 29, 2014 was Developmental Service Worker Appreciation Day in Ontario, and locals invited MPPs to "walk in their shoes" for a day, taking them to workplaces to learn more about the effects of underfunding. CUPE representatives also met regularly with MPPs from all political parties, worked with the parents of individuals they care for, did pre-budget media work, made presentations and submitted a brief to the Select Committee on Developmental Services.
Both campaigns highlight how working conditions and collective bargaining are linked to service provision. Ultimately, workers must highlight that a life devoted to ensuring the dignity of others should not mean a life of poverty.