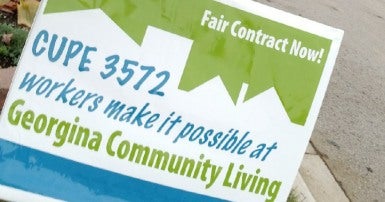 On front lawns across Georgina, Ontario, signs of support are going up for members of CUPE 3572.
Beginning late last week, dozens of volunteers began putting up 500 lawn signs bearing the message "CUPE 3572 Workers Make It Possible at Georgina Community Living."
"We're thrilled that so many people in the community have taken a sign to show their support for the work that our members do every day," said Lisa Thompson, President of CUPE 3572.
The Union, which represents staff at Community Living Georgina (CLG), is currently attempting to negotiate a new collective agreement with their employer. Thompson said the signs are one part of a larger effort by members of the union to raise awareness of the important work they do to help people live fuller, more independent lives.
"We are holding a public meeting next week for people with loved ones who are either CLG residents or make use of the agency's day programs, and our members are very excited to be participating in this year's Santa Claus Parade in Keswick," she said.
Thompson thanked residents who offered up their front lawns, as well as the volunteers and supporters helping to put up the signs.
"It was very gratifying to see so much support in the community for our members," she said.