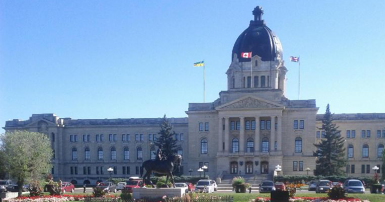 Saskatchewan's lower-than-expected deficit for the 2020-21 fiscal year is a false economy and belies under-investment in the front-line workers and public services that got us through the worst of the pandemic, says CUPE Saskatchewan in response to the final results released by the provincial government for the fiscal year ending March 31, 2021.
The final fiscal year results also show that federal government transfers increased significantly for COVID-related support, including funding the lion's share of the Saskatchewan Temporary Wage Supplement for front-line workers during the pandemic and significant funding for the Safe Restart Agreement and Safe Return to Class Fund.
"While the finance minister claims we are in a much better financial situation than anticipated, the Sask Party government is making the recovery situation worse by forcing cuts to public services, passing off increased costs to students and families, and failing to support the front-line workers that have been getting us through the pandemic," said Judy Henley, President of CUPE Saskatchewan.
The province's largest school division, Saskatoon Public Schools, has recently announced support staff cuts due to inadequate provincial funding.  Life saving microbiology lab testing capacity in Yorkton is being cut from the community with tests being shipped to Regina for processing and communities around Kipling are being left without paramedic services.  University students at the University of Regina and the University of Saskatchewan are facing tuition increases of four per cent this fall semester.
"Why is this government letting Saskatoon Public Schools cut staff at vulnerable schools and supports for students with English as an additional language when they are sitting on money they could invest?" added Henley.  "Why aren't they allocating additional funding for safety precautions for the upcoming school year when children under 12 cannot get vaccinated?"
Meanwhile, Saskatchewan continues to have one of the country's worst minimum wages and still doesn't provide guaranteed paid sick days for workers after a year of fighting the pandemic.  In the 2020 general election, the Sask Party also promised to hire an additional 300 Continuing Care Assistants (CCAs) to improve long-term care but have since dragged their feet on delivering the promise, as seniors urgently wait for more staff to provide care and support.
"To deliver a true recovery from the pandemic, now is the time for the Saskatchewan government to boost the low minimum wage, deliver a guarantee of paid sick days to all workers, and to bolster investments in public services instead of cuts and tuition hikes.  They have the fiscal room, but do they have the political will to turn recognition into action to thank our front-line workers and safeguard our public services that have kept us going through the pandemic?" asked Henley.