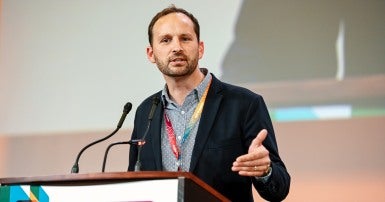 There was another NDP leader addressing the CUPE convention yesterday: Saskatchewan NDP leader Ryan Meili.
The last decade or so has been tough on the Saskatchewan NDP, which has seen its vote share decline in every election since losing power in 2007. But lately the party has been on a roll, winning three by-elections in the last two years, all seats previously held by the right-wing Saskatchewan Party.
Meili, a physician with deep roots in rural Saskatchewan, began his remarks with a shout out and thank you to the CUPE 974 members he once worked with while taking a shot at the Scott Moe government.
"The folks who are offering public services and working hard are worth a whole lot more than zero," said Meili, referring to the Saskatchewan Party's wage freeze policy.
The NDP leader described trying to get government help for patients and not being heard by government officials: "I soon realized the solution was not to knock louder, or knock harder, but to change who's answering the door."
"It starts with what you are doing already. Keep up the fights for your members. But keep an eye on us. We're the scrappy underdogs who have a plan: to bring back progressive government to the land of the living sky."