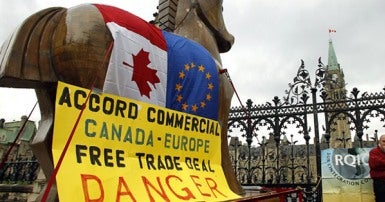 The Liberal government is rushing to put CETA into place, ignoring the ongoing criticisms of this dangerous trade deal. It's a missed opportunity to slow down and fix the many flaws in this deal, which was negotiated by the Harper government.
If it is ratified as written, the Comprehensive Economic and Trade Agreement between Canada and the European Union will hurt workers, communities and public services.
Our union is working with Canadian and European allies to keep up the pressure to block CETA, including CUPE adding our voice to an open letter opposing CETA's ratification. The open letter is signed by more than 450 groups on both sides of the Atlantic. The message is clear: the window-dressing of the past few months hasn't changed a single letter of the CETA agreement's text.
The letter outlines many areas of concern, all of which have been front and centre in our opposition to CETA.
CUPE is also making a submission to the House of Commons committee studying Bill C-30, the legislation that will implement CETA in Canada. The Liberals are limiting discussion and debate on this legislation despite its far-reaching consequences. In our submission, CUPE calls for the government not to ratify CETA in its current form, and to:
Remove all investor rights rules from the deal
Protect public services from privatization
Stop pharmaceutical patent extensions
Protect procurement across services and sectors
Include a real mechanism for enforcing labour rights
Trudeau is rushing to put CETA in place without first holding full consultations or obtaining an independent analysis of the deal's impacts on our country. As the Canadian Centre for Policy Alternatives' Scott Sinclair asks, why the rush to ratify?
This tramples the democratic process, and is clearly intended to silence the voices of independent experts and other concerned Canadians.
But, as NDP MP and trade critic Tracey Ramsey told the House, CETA is not yet a done deal. The NDP will be voting against CETA in its current form.