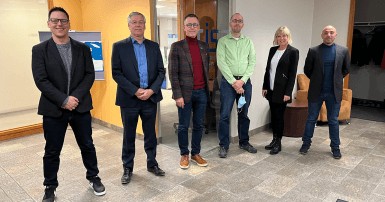 The 20 employees with the Réseau d'informations scientifiques du Québec (RISQ) signed their new collective agreement last Friday.
In addition to advantageous wage hikes, the members' pay echelons were reduced to 9 from 13, and the interechelon percentage was raised. As a result, the time required to reach the top echelon was shortened by four years.
Last November 23, members voted 94 per cent in favour of the tentative agreement reached by their union and the employer.
"We are very proud of the clauses we negotiated. We successfully achieved a win-win agreement in an environment of mutual respect. We are certain that this new agreement will ensure a good working atmosphere for its entire duration," declared Philippe Dion-Paquet, vice-president of CUPE 4633.
RISQ, a non-profit organization, is a major player in the field of education, research and training in Quebec. It provides telecommunications services to all universities, CEGEPs, school service centres, research centres, university hospitals, government ministries and agencies along with cultural and service organizations.
RISQ personnel with CUPE work in the information technology and administration sectors.