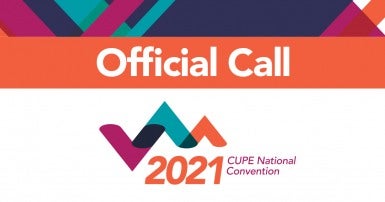 To all CUPE chartered organizations:
Please find enclosed an updated  Official Call for CUPE National Virtual Convention. 
Registration closes November 17 at 5pm Eastern Time. This is to permit our service provider, ENCORE, to set-up the virtual platform and ensure all participants receive their link and secure log-in information in time to connect to the virtual convention.
If you can't find your previous email with your link to register, please email credential-creance@cupe.ca for assistance.
Sector Council meetings will take place  on Sunday, November 21. The schedule for these meetings will be sent in the coming weeks.
Regional caucuses and caucuses for equity-seeking delegates will take place November 22. The schedule for these meetings will be sent in the coming weeks.
Convention will take place November 23 to 26. A convention agenda will be sent to you once finalized, and will also be available at cupe.ca.
Notice advising of the following National Sector Council meetings being held on Sunday, November 21: CHILD CARE, EDUCATION, EMERGENCY AND SECURITY SERVICES, ENERGY, HEALTH CARE, LIBRARIES, MUNICIPALITIES, TRANSPORTATION, COMMUNICATIONS, POST-SECONDARY AND SOCIAL SERVICES.
Online forms
Convention registration and registration for sector council meetings is done through the credential forms your local received by email or by mail.  If your local did not receive credential forms, please contact convention@cupe.ca .
Access and services for persons with disabilities
Requests must be made by October 8, 2021.