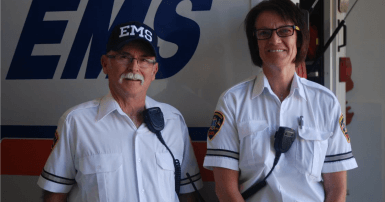 The Canadian Union of Public Employees (CUPE) is urging the provincial government to implement an integrated, fully public ground emergency medical response system.
The government is currently undertaking a system review of ground emergency medical services (EMS) in Saskatchewan. Submissions are due by July 31, 2017.
"CUPE strongly believes that provincial and publicly delivered EMS would allow for better coordination across the province, improve access and timeliness of EMS in rural Saskatchewan, and result in lower costs to residents," said Sandra Seitz, president of the CUPE Saskatchewan Health Care Council.  "This review is the perfect opportunity for this government to address the many issues in Saskatchewan's EMS system."
Evidence from the public provincial EMS system in British Columbia shows that this is the most efficient, patient-centred, and cost-effective model for EMS. Furthermore, centralized, public ground EMS can improve services for rural Saskatchewan.
"The lives of rural Saskatchewan residents should be valued as much as urban lives, yet access to emergency services and response times in rural Saskatchewan are inadequate," added Seitz. "CUPE believes that a provincial and publicly delivered and coordinated EMS system would enable us to dramatically improve the level and quality of emergency medical services to patients in rural Saskatchewan."
Currently, delivery of EMS in rural Saskatchewan is fragmented among 104 private and regional health authority ambulance services, is poorly coordinated within and among health regions, and relies heavily on volunteer and lowly paid emergency medical responders. The cost to rural patients for ambulance services can be extremely high because of the longer distances travelled to reach a local or urban acute care facility.  In urban centres, target response time for emergency services is within nine minutes. In rural areas, 30 minutes is the target, but only 77 per cent of rural ambulances achieved this target in 2015-2016.
CUPE is recommending that The Ambulance Act be rewritten to enable the creation of provincial and publicly delivered emergency medical services with the power to develop an effective, provincially-coordinated emergency medical services system with provincial guidelines and standards.
"It's time to establish a fully public, effective provincial EMS system in the province," said Seitz. "And it is time that matters to residents when they face a medical emergency."
You can read CUPE's full submission here: