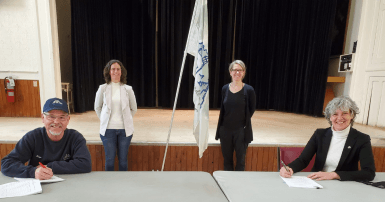 The Municipality of Val-David is proud to report that the collective agreement of its blue-collar employees with the Public Works and Regional Parks Department represented by the Canadian Union of Public Employees (CUPE) has been renewed. Their agreement had expired on September 1, 2019.
The negotiations, which began in December 2019 and were subsequently slowed down by the pandemic, took place in a respectful setting. The concerted work by the parties maintained good relations, which was essential to the municipality.
On March 22, 2021, the agreement was officially signed in the presence of Serge Charette, the president of the blue-collar union, Geneviève Lortie, CUPE union representative, Sophie Charpentier, General Manager, and  Kathy Poulin, the Mayor of the municipality.
The highlights of this 5-year agreement include wage hikes of between 2 and 2.25% annually, an adjustment of $1.25 on the salary scales and the addition of a progressive retirement provision.
"Congratulations to the persons responsible for these effective and successful negotiations that are in line with the directions and financial framework established by municipal council. This agreement renews the recognition of our employees and the equitable bases of their contact with the municipality, as the ultimate objective is always to better serve the citizens of Val-David," said Mayor Kathy Poulin.
"We are satisfied with the outcome of our talks with the municipality. The citizens of Val-David can continue to count on us to deliver good services and create a pleasant living environment," added CUPE union representative Geneviève Lortie.