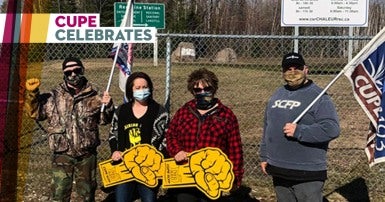 Workers at the Red Pine landfill site in Allardville, NB are celebrating a major victory after a months-long lockout came to a close following the ratification of a new five-year collective agreement that features strong wage increases and no concessions.
The 23 workers, members of CUPE 4193, were locked out on February 13 by their employer, the Chaleur Regional Services Commission (CRSC), over concessions on their union leave and sick leave.
"For the past six months, our members have held strong through a lockout unlike any other in Canadian history, and we won because we refused to settle for less," said Serge Plourde, president of CUPE 4193. "Sticking together and supporting one another, and the outpouring of support from our community and our union sisters and brothers across New Brunswick and across Canada, is what got us through this uphill battle."
For the past six months, they have been forced to return home without pay, benefits, or health insurance, while being replaced by scab labour from day one. They faced a court injunction that limited their picket line to a maximum of six people at a time. And they did it all during the COVID-19 global pandemic.
Despite all that, they have emerged with a strong result for their membership and a shining example of union solidarity in action.