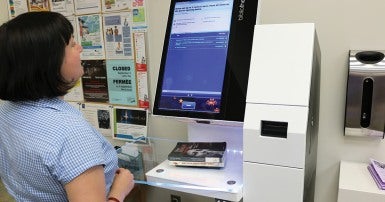 Tech change and workers aren't always besties.
In fact, we can trace a clear line through the history of work and workers where technological change has disrupted, displaced and disrespected the work that actual people do. From the loom to the assembly line to the digital "revolution", technology not under democratic or worker control often ends up hurting workers – often in the name of progress.
Today's digital disruptions are no different.
Take the example of library self-checkout kiosks. These are the new machines where library patrons check out books or other materials by stacking them under a scanner. The materials have small tags inserted into them that use a technology called radio frequency identification (RFID). These tags contain short-range transmitters that are activated by the readers in the scanning machines. Folks can check out multiple items at one "beep." It's pretty quick.
A self-scanning kiosk "enables employees to focus on customer service within the branch," the Ottawa Public Library claims on its website. The manufacturer says that "time saved by staff…could be allocated to other activities, such as providing one-to-one support to patrons."
Key word: "could."
It sounds promising, but it's not really what library managers in places like North Vancouver, Ottawa and Halifax are doing with all this new, freed-up time. They're using the technology to reduce staff hours and cut positions, adding to the growing precarious nature of work in our library systems. And they're relying on library patrons to use the technology themselves – in other words, to perform the work they used to pay a worker to do.
Your union is responding. CUPE library workers have a lot to say when it comes to reimagining our libraries in the digital age – beyond relying on automation and free labour to cut jobs.
Doing more with technology and "finding new ways to connect with the community is something that CUPE members will support and be engaged in," says Allison Hardman of CUPE 561 at the Coquitlam Public Library.
Hardman reminds us: "We already have staff who are very comfortable with technologies and who are eager to play a part in expanding what the library has to offer. Outreach – both online and in person – is a core activity of every modern library and one in which CUPE staff should be viewed as partners."
It's that sense of partnership that can keep technology – and our workplaces – balanced, inclusive and fair. You can't automate partnership, even in the days of digital disruption. Like solidarity, it's a practice.