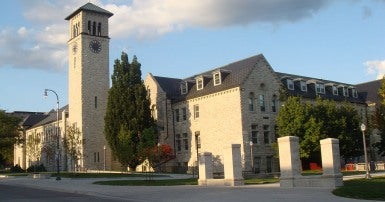 Members of three CUPE locals at Queen's University have secured improvements to parental leave and job security in collective bargaining with the university. Between November 23 and December 8, the three Locals reached tentative agreements with the university that have now been ratified by membership.
"Bargaining is never easy, and Bill 124 complicated our bargaining team's efforts to win a pay increase more in line with inflation for our members," says CUPE 254 President Marie Edwards. "But we are immensely proud of the work we've done here. There are no concessions in the agreements our members ratified, and we will see some important changes that will improve our working conditions."
With Bill 124 capping increases to wages and other compensation for public-sector workers at 1 per cent, the CUPE bargaining teams turned their attention to issues including job security and workplace equity. Among the most important of these improvements for all three Locals are changes to pregnancy and parental leave and a guarantee that the university will provide equity data to the union.
CUPE 229, which represents trades and maintenance, custodial, and residence and recreation staff, also ensured that an existing provision against contracting out members' work to non-union workers remained in place and will see 26 new full-time positions as a result of this round of negotiations.
"Our members had to fight for this agreement, and we know that the fight is not over," said Sherri Ferris, president of CUPE 229. "It is important not only for our members that this work be done by us, but for everyone in the university community who relies on the quality-of-service CUPE members provide. And we will continue to ensure that the university's administration knows this."
"Increases to the parental leave offered to birth mothers are a key step in creating a more equitable workplace that does not punish women for having children," added Kim Bell, president of CUPE 1302. "We look forward to improving on this front even more in the years to come."