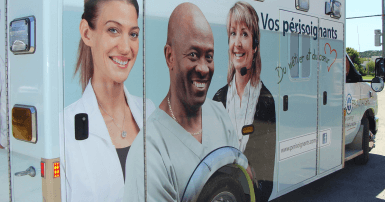 The Canadian Union of Public Employees and the Syndicat québécois des employées et employés de service, both of which are affiliated with the FTQ, and Québec solidaire deplore the minimal recognition paid to office staff, technicians and administration professionals in the health and social services system. All three organizations acknowledge that everyone in this sector has been doing more than their share during the pandemic and that they deserve, without exception, the premiums proposed by the government.  
"Administrative staff is essential to the operation of the health and social services system. They were there throughout the health crisis and still are. Without their crucial support, no new employees would have been hired to cover the labour shortage, no files would have been opened, no schedule planning would have been done to replace missing employees, nor would paycheques have been issued or personal protective equipment purchased. They perform thousands of administrative tasks that enable the system to keep operating," explained Maxime Ste-Marie, president of the Conseil provincial des affaires sociales (CPAS-CUPE).
"The high turnover rate of administrative staff undermines the effectiveness of the health and social services system. Many tasks have been added in the past two years to keep the ship afloat. Nonetheless, a significant number of our members aren't entitled to the same attendance premiums such as the escalator premium, which can reach $1,000 in four weeks, because they're working behind the scenes. To suggest they are not on the front lines day after day is a flagrant lack of respect. We demand that all administrative staff be entitled to the attendance bonus," said Sylvie Nelson, president of the SQEES-FTQ.
An online petition on the National Assembly site
"This government has a nasty tendency to be divisive by giving more to one and less to another, whereas the health and social service system is built on team work and cooperation. There's nothing more unmotivating than to feel less respected than one's colleagues, and the example comes from the top, the Health Ministry itself, which has created two classes of workers in the health care system. That's why I am inviting the public to sign the petition I am sponsoring. The message must be loud and clear – all health and social services personnel matter, and so does the administrative staff," added Alexandre Leduc, spokesperson for the second Labour opposition group.
The petition can be signed here