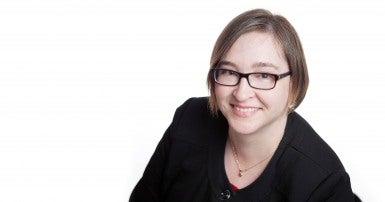 In September, CUPE welcomed Angella MacEwen as our new economist. Angella comes to us from the Canadian Labour Congress, where she worked as the economist for six years. A leader in her field in the progressive community, Angella's also well-known in the national media for her insightful analysis and ability to put right-wing pundits in their place on programs like CBC's Power and Politics.
Why did you decide to study economics?
I had to take an economics elective for my international development studies—and that class, "Women and the Economy," changed the way I thought about economics. I learned that you could use economics for good! I also learned how some people have more economic bargaining power than others based on their networks, their class, their race, their sex or gender identity, and why we as a society value some kinds of work more than others.
You spoke about intersectionality at the National Sector Council Conference. Is intersectionality related to bargaining?
Absolutely. We can't fight against one kind of oppression (like class or gender) and ignore others (like race or religion). Doing so makes it harder to build solidarity among our membership and in our communities. To advocate for an economy that respects all workers, we must understand the barriers facing our members and allies, and we must build solidarity across movements.
Examples of barriers that we have fought for and continue to fight for at the bargaining table include pay equity and employment equity, and taking action against two-tier contract provisions. It could also include requiring accommodation for workers with different needs such as childcare, physical accessibility of buildings, or translation of important materials into a worker's first language. It might include measures to ensure workers are protected from racism, Islamophobia, or transphobia on the job. 
What one thing about economics would you want to share with CUPE members?
I always tell people that they know a lot more about the economy than they think. What's important about the economy is how well it is working for us as a society. And if it's not working, we can change it!
Right-wing economic policies try to place the blame on individuals, saying we should "just work harder." As a result, their solutions are focused on the individual, for example offering student loans instead of free postsecondary tuition. There is a power imbalance in capitalist economies, but too often that power imbalance is hidden or ignored. It can be easy to focus on the individual instead of uncovering how power imbalances have created broad, system-wide challenges. That's why we need an intersectional analysis—to see the barriers, to change the economy and make it work for all workers.
Read Angella's article on fighting austerity at the bargaining table.