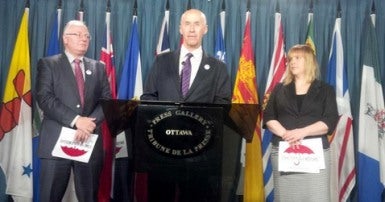 OTTAWA - Today at 49 events across the country, Canadians are calling for the federal government to negotiate a new Health Accord. Stable funding and universal quality of health care for all Canadians require a new Health Accord. 
In Ottawa, former parliamentary budget officer Kevin Page spoke to Parliamentarians about the importance of a health accord in terms of the fiscal stability and sustainability of the health care system as intended by the Canada Health Act. CUPE President Paul Moist added his voice to the call for federal leadership in health care. 
"With the new formula imposed by the conservative government, federal funding for health care will be 13 cents for every dollar spent in health care in 2024. It used to be 50 cents," said Moist. "Canadians are proud of their health care system and together we can make it a big election issue in 2015."
The Health Accord is an agreement between the provinces, territories and federal government. It provides stable federal funding and sets national standards and goals for improving the system. The recent Health Accord expired March 31st, 2014 and the federal government has refused to negotiate a new accord. 
The expiration of this accord means that funding is currently provided to provinces on a per capita basis with no consideration of need, creating great inequity.  It will also mean a $36 billion dollar cut to the federal health transfers over ten years beginning in 2017.
Moist added, "So when federal politicians knock on your door in the upcoming federal election, ask them where they stand on the need to strengthen and expand our health care system." 
For more information on the campaign visit healthcoalition.ca and CUPE's many related online resources.
You can also join the conversation on Twitter: @healthcoalition #stand4medicare 
The Canadian Health Coalition is a public advocacy organization dedicated to the preservation and improvement of Medicare. Our membership is comprised of national organizations representing nurses, health care workers, seniors, churches, anti-poverty groups, women, students and trade unions, as well as affiliated coalitions in 9 provinces and 2 territories.