Govind Rao | CUPE Research 
March 31, 2014 marked the expiry date of the federal-provincial health accord. The federal government has refused to renegotiate it. Instead they are forcing through changes that favour some provinces in the short run, and cutting funding significantly in the long run.
For the last 10 years, the health accord provided stable federal funding for health care. Negotiated by the prime minister and provincial premiers in 2004, the accord increased federal health care funding by six per cent annually.
But as of April 1, 2014 Canadians no longer have guaranteed federal funding. There is nothing in place to stop future governments from slashing funding by billions.
The government is also moving to equal per capita funding, meaning each province will receive an amount that corresponds only to its population. Income level, demographics, degree of urbanization and any other aspects specific to a province's need are ignored.
The formula change removes equalization from the calculation. The result will inevitably increase inequality in health care across the country.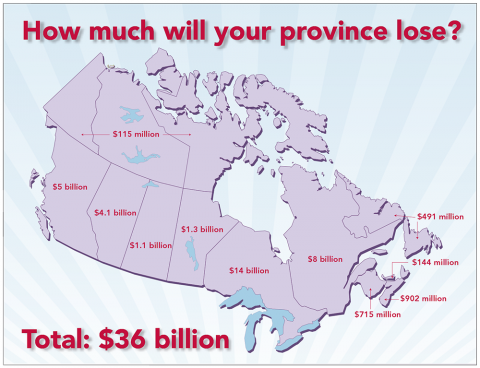 Under the new model the wealthiest province, Alberta, will gain almost $1 billion extra in federal funding, while all other provinces lose out. Ontario loses $335 million; British Columbia, $272 million; Quebec, $196 million; Newfoundland, $54 million; Manitoba, $31 million; Saskatchewan, $26 million; Nova Scotia, $23 million; New Brunswick, $18 million; and Prince Edward Island, $3 million.
But the most significant cut is to the annual increase of the transfers, conveniently designed to take effect after the next federal election. Starting in 2017 increases will be reduced from six per cent, and linked to the rate of economic growth. The reduction will mean $36 billion less for health care over ten years. Check out the map to find out what that means for your province.
Within a decade, the federal government share of total health care spending is expected to drop below 19 cents on the dollar, down from more than twice that amount in the 1960s and 70s. These cuts threaten to fundamentally undermine public health care in Canada.
What can we do about it? Go to www.saveourhealthcare.ca  to find out.