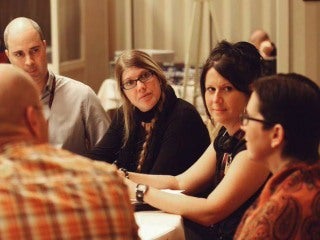 Workers at colleges and universities want to know: Where's the funding?
Toronto, October 6 to 9, 2014
Post-secondary education (PSE) workers, from coast to coast, would like to bring the 'Where's the Funding?' campaign to every post secondary institution in the country.
The WTF campaign was first launched by CUPE post-secondary workers in British Columbia two years ago.  Ontario post-secondary workers recently followed in their footsteps. One of the campaign's goals is to find examples of underfunding and expose how it negatively affects the quality of learning on campuses.
Some members suggested that extending the WTF campaign from coast to coast could form part of a PSE national strategy designed to mobilize the membership, engage and work with other unions on campuses, build coalitions, share information and strategize more effectively around bargaining. The participants also discussed the need for a federal strategy on post-secondary education, through the adoption of a Post-secondary Education Act.
Participants shared stories on how years of chronic underfunding to post-secondary education has affected bargaining and working conditions.  For years now, post-secondary education workers have all faced the consequences of core funding reduction, which has resulted in an increasing number of precarious workers on university and colleges campuses across the country, and constant attacks on benefits such as pensions.
The co-chair of the Post-secondary education sector meeting, Michelle Waite stressed the need to continue to fight the regressive right wing agenda and the dismantling of our social foundation in our provinces.  "We must continue to work together strategically to protect and improve workers rights," said Waite. "We must fight for the rights of PSE workers and the workers' children right to attend publicly funded Post-secondary institutions."
Photo album: Post-Secondary sector council