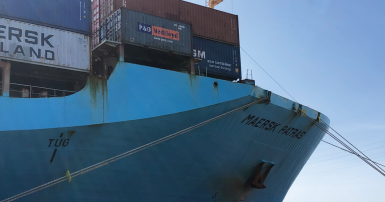 The union representing Quebec City longshore workers (Syndicat des débardeurs de la Ville de Québec) has just learned that another accident has taken place at the port. This time, a wheel loader rammed into a vehicle close to a dock.  Last Sunday, a manager with Québec Saint-Laurent (QSL) damaged a crane along with the navigation and telecommunication equipment of a moored ship while performing the work of longshore workers locked out last weekend.
"It's unfortunate but these accidents clearly show that replacement workers with virtually no training do bring safety issues to the fore at the Port of Quebec.  The employer, the Société des arrimeurs de Québec, of which QSL is a member, wants to avoid engaging in proper negotiations and is turning to scabs," said union president Stephan Arsenault.
"This entire matter would have been resolved quite some time ago if there had been an anti-scab provision in the federal Labour Code. The employer is using replacement workers, which is illegal for companies under federal jurisdiction. We're lucky that only material damage was caused and that no one ended up getting hurt or worse," said CUPE Quebec president Patrick Gloutney.
On September 15, 2022, the Société des arrimeurs de Québec (SAQ) locked out the 81 longshore workers at the Port of Quebec. The parties have been in talks since June 2022. Discussions have bogged down over the work schedule. The employer is demanding that the longshore workers put more time in on the job. Members, meanwhile, want to protect the important balance between their work and personal life. As is the case everywhere else, the Port of Quebec is dealing with a labour shortage, and the employer is insistent on shifting the burden to the longshore workers.