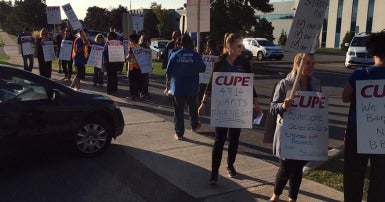 Striking workers from the Children's Aid Society of the Region of Peel (Peel CAS) overwhelmingly rejected the latest "final offer" from their employer due to its failure to address workload and joint job evaluation concerns that would prevent children from falling through the cracks.
The supervised vote was called by Peel CAS which forced the members of Local 4914 of the Canadian Union of Public Employees (CUPE 4914) to consider its offer. "This offer does nothing to help the children of Peel or the health and safety of workers," said Stephanie Zaine, frontline worker and member of CUPE 4914. "Instead of finding new ways to force us to vote on the same offer, they need to get back to the table and negotiate an offer that protects children and respects workers."
Out of the 371 members who cast a ballot, 345 (92.99%) rejected the offer.
The 435 frontline, administrative and support staff of CUPE 4914 have been on strike since September 18. The outstanding issues include caseload language and joint job evaluation that would prevent Peel CAS from piling cases onto workers, causing the quality of care given to the children of Peel to suffer, and the health and safety of both workers and children to be put at risk.
This latest offer from Peel CAS was rejected by the bargaining team six weeks earlier. It had also been seen by members of CUPE 4914 when Peel CAS sent copies directly to the homes of each member. The membership had voted not to formally consider the offer.
"Even though [Chief Executive Officer of Peel CAS] Rav Bains has tried to sidestep the union, our members have been clear many times, the status quo is not acceptable," said Sonia Yung, President of CUPE 4914. "This offer showed no changes to what they've already seen and the members have definitively voted it down. Now the way forward is to get back to the negotiating table. If that won't do, we again ask the employer to agree to take these issues to arbitration and put an end to this strike before the holidays."
CUPE 4914 has made a formal request to both the employer and the Ministry of Labour for Peel CAS to return to the bargaining table as soon as possible.