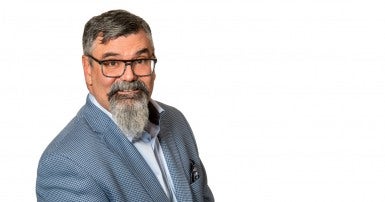 Patrick Gloutney was elected Secretary-General of CUPE-Quebec at the special convention of CUPE-Quebec.
Patrick Gloutney was elected Regional Vice-President for Quebec in October 2017 to CUPE's National Executive Board, and in June 2021 as General Vice-President.
Patrick began his career in the Canadian Armed Forces in 1985. In 1994, he made a career shift and began working as an emergency call center operator, first with the Sûreté du Québec (the Quebec Police Force) and in 1995 transitioning to the City of Repentigny.
He first became involved with his union over 10 years ago, when he took on the important role of assisting members with their grievances. In 2008, he was elected Vice-President of his local and in 2012, he became President. In the same year, he was elected President of the Provincial Council for the Municipal Sector. At this time, he was also elected Vice-President for CUPE Quebec.