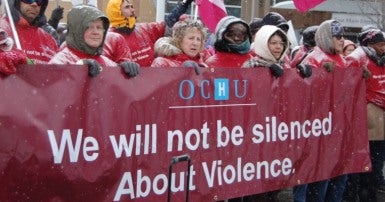 Savage assaults by patients and patients' families on Ontario nurses, personal support workers and other front line hospital and long-term care staff, have left workers with severe facial injuries, broken bones, brain injuries and in several cases, unable to walk. Many are suffering from post-traumatic stress and psychological damage according to the Ontario Council of Hospital Unions (OCHU) / CUPE which today issued an open letter to the Labour Minister Kevin Flynn, urging him to show leadership and compassion, and adequately safeguard staff in health care workplaces.
"Every day countless hospital and long-term care staff are physically and sexually assaulted at work. When people speak up about this problem they are threatened and, in one recent case, fired. The provincial government is guilty of exposing healthcare staff to harm, turning its back on their beatings and of conspiring with employers and the Workers Safety and Insurance Board (WSIB) to deny them compensation when they are injured. A health care workplace that is unsafe for its staff is also unsafe for the public we care for," says OCHU's president, Michael Hurley.
Since a nursing conference focused on workplace violence in January 2016, OCHU has documented incident after incident of abuse, threats, assaults and sexual harassment, both physical and verbal, within the health care sector. The most recent assault was an attack with a weapon on a hospital worker in Cornwall last month. 
The minister is being asked to:
Ensure that hospitals and long-term care facilities are adequately and safely staffed;
Reform the WSIB, which has consistently harassed and denied claims for staff disabled by workplace assaults;
Enact "whistle-blower" protection for workers who report or speak up about workplace assaults or of situations in which violence could occur;
Support an amendment to the federal criminal code criminalizing assault on a healthcare worker;
Ensure that all acts of violence are properly reported and investigated;
Ensure that every workplace has violence-prevention measures including safeguards such as: adequate security, personal monitors, alarms and flagging of potentially violent patients.
"We were disturbed by the study participants' recounting of how pervasive and even 'normalized' violence has become within the health care facilities we studied", says Dr. James Brophy, co-principal investigator along with Dr. Margaret Keith, both affiliated with the University of Stirling of a recent study of violence against hospital staff in Ontario. "They described an almost universal frustration with the role being played by Ministry of Labour and its failure to address the underlying causes of violence. The WSIB was also roundly condemned for its lack of recognition and assistance for those physically and psychologically harmed."
Among Canadian provinces Ontario is almost at the bottom in funding hospitals and long-term care.
"Underfunding has resulted in cuts, staff shortages and patients and residents waiting longer for all types of care. In healthcare where the majority of workers are women we have to see this issue in its larger context, as another example of tolerated violence against women. It's time to end the dirty little secret of violence in healthcare," says OCHU secretary-treasurer, Sharon Richer.
OCHU is demanding that the province ensure that adequate staffing be put in place and that no health care worker be forced to work alone.
OCHU is the hospital division of the Canadian Union of Public Employees (CUPE) which represents over 70,000 health care workers Ontario-wide. To read OCHU's complete letter to Minister Flynn, please go to ochu.on.ca.