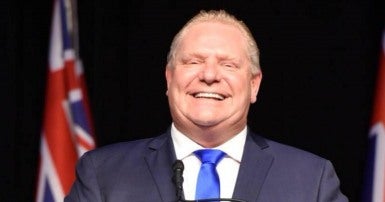 Don't be fooled by the Ford Conservatives' saying they're increasing wages for personal support workers, says CUPE Ontario.
"Imagine the excitement that burnt out, underpaid, and incredibly vulnerable personal support workers in health care and developmental services felt when they saw headlines saying the Ford Conservatives would supposedly be permanently increasing their wages," said Fred Hahn, President of CUPE Ontario. "But the terrible reality is that no such thing is happening. All that this legislation does is allow the government to pick and choose who gets pay bumps that might, insultingly, only be temporary. And to make matters worse, it pits workers serving side by side against one another by only applying to some of the many heroic front-line workers and not to every single worker in these settings."
CUPE Ontario is raising concerns about Bill 106, specifically Schedule 7, which unusually saw it fast tracked with three debates in one day before being passed to the finance and economic affairs committee. The bill will likely be made law this week. While the Ford government describes the legislation, titled the "Pandemic and Emergency Preparedness Act", as a wage enhancement for Ontario's personal support workers, CUPE Ontario says that's misleading.
The Bill would override collective agreements between employers and unions by allowing the Ontario government to, CUPE Ontario says, "arbitrarily" pick and choose who gets wage enhancements that are not guaranteed to be permanent. One section of the Bill would even go as far as preventing workers or unions from lodging complaints.
Additionally, the union is saying that permanent wage enhancements should occur for all broader public sector workers. In health care alone, dietary aides, laundry, registered practical nurses, cleaners, and all other job classifications "work as a team in these facilities" with personal support workers subject to Bill 106, said CUPE Ontario.
"If this government had any concern for the wages of personal support workers or developmental services workers, they would repeal the unconstitutional wage restraint law, Bill 124, and just permanently increase funding to increase wages," said Hahn. All broader public sector workers have had their wages artificially capped, and because of rising inflation, are falling further and further behind, CUPE Ontario said.
"Sadly, this is nothing more than a crass political ploy before an election," said Hahn. "Workers deserve better; our communities deserve better."
The Bill also poses a real danger of further entrenching inequality in workplaces, CUPE Ontario says, since schedule 7 specifies that wage enhancements won't count as salary increases for the purposes of the Pay Equity Act.
"That means where there are two job classifications - one mostly worked by men and the other mostly worked by women - the one worked by men could get a significant wage enhancement while the one worked by women could get nothing," said Yolanda McClean, Secretary-Treasurer of CUPE Ontario. "Let's remember that so many of these heroic care workers are racialized and immigrant women. They don't deserve to be held back even more than they already were. We need to shed light on this Bill and we have to stop it."