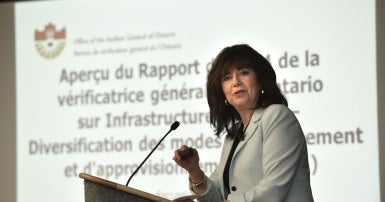 Municipal leaders from across the country took an in-depth look at the problems with public-private partnerships in a workshop with Ontario Auditor General Bonnie Lysyk at the Federation of Canadian Municipalities' annual conference.
A capacity crowd at the CUPE-organized workshop heard Lysyk describe how 74 P3 projects cost $8 billion more than if they had been delivered publicly. She also explained the "biased model" that provincial P3 agency Infrastructure Ontario used to evaluate P3s. The way P3s were evaluated tipped the scales in favour of privatizing, without any evidence to back up the recommendations.
​Lysyk said it was "pretty much automatic" that the projects she reviewed, which had been evaluated by Ontario's provincial P3 agency, would go ahead as P3s. Key decisions were based on opinion, not fact. "We wanted some empirical data to support the analysis that [Infrastructure Ontario] had done. We were not able to obtain any empirical data," said Lysyk.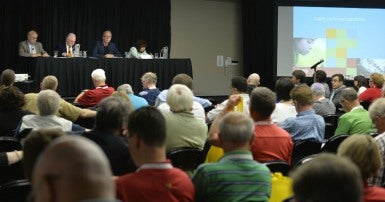 Responding to a question from a municipal councillor about having to put an infrastructure project through a P3 screen, Lysyk reinforced her concerns about the model used to evaluate whether a P3 delivers 'value for money.'
"We're saying show us the evidence. The way the model in Ontario is working right now, it's a theoretical model derived based on judgement. There isn't a way to substantiate how risk is valued in this model. In all cases this model shows P3 is the way to go. So it's a biased model," said Lysyk.
The federal government and most provinces have P3 agencies that work like Infrastructure Ontario, and municipalities are increasingly being exposed to the risks and higher costs of these schemes.
"Bonnie Lysyk's audit calls the entire P3 model into question. The new federal transit infrastructure fund is just the latest example of federal funding being tied to P3s. But we know P3s cost more, and are being promoted without any evidence they're good for communities," said CUPE National President Paul Moist, who moderated the packed session.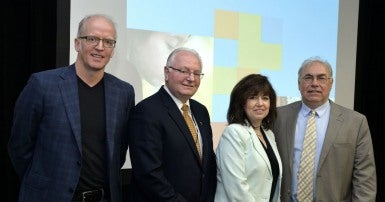 Economist and panelist David Thompson questioned the federal P3 fund, which offers grants of up to 25 per cent of capital costs to privatized projects. "The federal government maintains a massive federal subsidy for P3s. One quarter of the costs of them. You have to wonder, if there is such a big subsidy required for P3s, if there is really a business case for them in the end," he said.
"It's time to stop forcing municipalities into this expensive model. Instead, it's time for predictable, long-term federal funding that isn't tied to privatization," said Moist.
The workshop also looked at better ways to finance and build infrastructure for our cities and towns.
Panelist and Dauphin Mayor Eric Irwin says there is no reason the public sector can't manage and deliver infrastructure projects. "The onus is on municipal councils and politicians to manage," said Irwin. He pointed to Dauphin's arena, which was delivered without resorting to a P3.
Lysyk said Infrastructure Ontario "could just as easily manage public sector projects," improving outcomes and saving money. "Successful public sector delivery depends on effective contracting and project management. What we're saying in our report is, leverage the knowledge of Infrastructure Ontario to manage traditional builds more, so that you have strong project management and you don't have to pay as much financing."
Irwin described how community engagement and reinvestment have transformed his Manitoba community.
When Irwin was first elected to council in 1998, Dauphin was being hollowed out as residents, jobs and businesses left the rural community. The tax base had shrunk and, as Irwin said, "it's not possible to starve yourself into prosperity."
The new council embraced and involved the community in public facilities that strengthen the community, including a skate park, recreation complex and pool. The city's popular CountryFest has played a key role in boosting the economy, and helped support Dauphin's new community-owned movie theatre.
The turnaround started with residents, says Irwin. "If you engage your citizens and you create excellent public spaces you will grow your community. Your tax base will increase and you're not going to be chasing taxes. They will grow as your needs grow."
Thompson emphasized the need for more and better revenues for municipal governments, highlighted the many financing alternatives to P3s that exist, including bonds, municipal financing authorities and revolving funds.
He outlined the impact of income inequality on communities, and highlighted ways municipalities can find revenues that are progressive, and based on ability to pay.
View the photo album: CUPE delegation at Federation of Canadian Municipalities conference