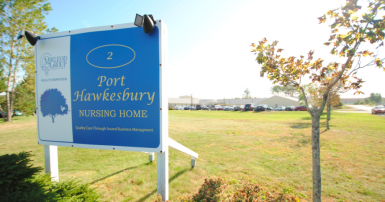 Workers received notice of layoffs, or reduced hours of work, this week at the Port Hawkesbury Nursing Home. The layoffs are the result of $6.7 million in budget cuts to long-term care announced by the Nova Scotia Department of Health and Wellness ($3.6 million cut in 2015 and an across the board one per cent cut in 2016 of $3.1 million).
"We are now beginning to see the 'real' impact these cuts are having on workers, residents and their families. As well, nursing home administrators are now faced with impossible decisions that require them to cut costs that will reduce the quality of care for residents," says Caroline Latimer, president of CUPE 3630 representing workers at the Port Hawkesbury Nursing Home.
In 2015, when the cuts were announced, former acting NDP leader Maureen MacDonald said, "You can't take money out of a long-term care facility and not have an impact."
"We couldn't agree more," says Louise Riley, chair of CUPE's Long-Term Care Committee. "Based on his previous comments, it seems that Health Minister Leo Glavine thinks there will be no significant impacts resulting from this budget cut. We beg to differ. Now we are seeing the real impact."
"After being notified that she will lose her job on August 10, a worker at the nursing home took her layoff notice to her MLA Michel Samson, insisting he get involved. She was quite surprised to hear from him that he didn't know about the budget cuts," says Kathy McLeod, CUPE Long-Term Care coordinator. CUPE has requested a meeting with Samson, who represents Cape Breton-Richmond.
CUPE Nova Scotia members, and anyone with a loved one residing in a nursing home, are encouraged to contact their MLA and ask them to oppose these cuts to long-term care.
CUPE members will hold information pickets to talk to the public about the impact of these budget cuts to nursing homes across the province. Dates and locations to be announced next week.