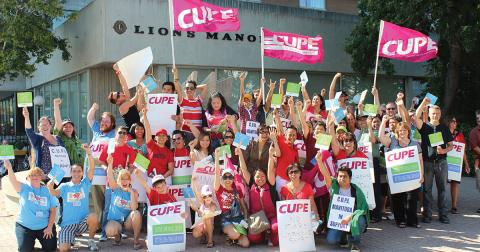 Highlights of our legal advocacy this year include the struggle for casual workers' rights. In Nova Scotia, CUPE 2094 arbitrated a case involving a casual worker who was dismissed from Seaview Manor, a continuing care facility. The employer argued the dismissal could not be grieved under the collective agreement because the worker was casual. The arbitrator sided with CUPE, agreeing it was grievable. The employer is now fighting the ruling in court. The case will be heard in 2014.
Following the successful Charter of Rights and Freedoms challenge in New Brunswick in 2009, new legislation allowed casual workers to finally become part of our bargaining units. CUPE has been negotiating terms and conditions of employment for these casual workers. We are also fighting to include casuals in our bargaining units in several cases in Nova Scotia, where labour board policy still excludes them.
Early in 2013, support workers at Simon Fraser University in BC won a key victory in their almost three-year struggle for a new collective agreement. The BC Labour Relations Board ruled the university was bargaining in bad faith by refusing to discuss wage proposals unless CUPE 3338 agreed to change the multi-stakeholder pension plan. In June, the local reached a four-year, no concessions deal with two-per-cent wage increases in each of the final two years.