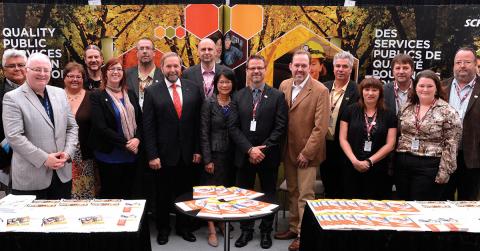 CUPE's delegation was active at the 2013 New Democratic Party policy convention, held in April in Montreal. We worked with the labour caucus to pass resolutions that confirm the NDP will defend our rights to bargain without interference, and to strike.
Convention delegates also affirmed the NDP's commitment to protect public services, and to oppose trade agreements that put corporate rights ahead of local democracy and public service delivery.
CUPE members volunteered for the NDP in several federal and provincial by-elections, and in provincial elections in British Columbia and Nova Scotia. In Ontario, CUPE members were on the ground organizing for the historic London West provincial by-election win. Peggy Sattler became the first New Democrat to hold the London seat.
CUPE can be proud of our work for the NDP - we cannot ever let there be an election in Canada without a strong voice for workers.
In BC, the election of former CUPE national president Judy Darcy and re-election of former research representative Kathy Corrigan were bright moments. And CUPE BC's political activism continues, helping elect progressive candidates in a number of municipal by-elections resulting from the provincial election.
In Manitoba, our political advocacy and organizing were key to important legislation that came into effect in September. The law holds P3s more accountable by requiring detailed information and ensuring public consultations on projects. Winnipeg MLA Dave Gaudreau, a CUPE 500 member before being elected in 2011, led the initiative.
CUPE was also active in municipal elections this year. In Alberta, CUPE representatives won four races. Current and retired CUPE staff were re-elected in Acme and Red Deer, current and retired CUPE members were elected in Edmonton and Crowsnest Pass, and six CUPE endorsed candidates were successful. In Quebec, a CUPE local president is now mayor of Sept-Îles. And in Newfoundland and Labrador, CUPE members were elected as councillors in Port aux Basques, Rocky Harbour and Norris Point.
CUPE brought our message to more than 2,000 municipal officials in late May at the annual conference of the Federation of Canadian Municipalities in Vancouver. Many delegates stopped by our booth, and we held a forum on how infrastructure funding can best support local economic and community development.
Our work to strengthen relationships with our employers continued at the Canadian Library Association's yearly conference in May. CUPE's National Library Workers Committee co-chairs took part in a conference panel on the role of unions in the library sector and CUPE sponsored the conference keynote speech.