Karin Jordan | CUPE Communications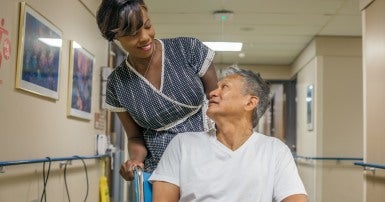 A new study concludes privatization is harmful to the quality of seniors' care, and calls on governments to invest in public and non-profit care for the sake of our seniors.
The findings, published in the journal PLOS Medicine, add to the mounting evidence about the dangers of for-profit care. Across the country, our members in long-term care are fighting privatization and advocating for public, well-funded care that delivers high-quality health services to our frail and vulnerable elders. It's part of our union's work to strengthen and expand Medicare.
The latest report analyzes existing research and concludes that overall, public and non-profit homes provide more and better care than for-profit facilities.
For-profit facilities have fewer staff, higher staff turnover, and deliver less hands-on care to residents. Together, these factors hurt seniors' health and their overall quality of life. Underfunding and short-staffing create unsafe conditions for seniors and for the workers providing their care.
The report notes that the facilities making the highest profits also had the highest number of problems.
Large corporate chains and private equity-owned firms are expanding in long-term care, a dangerous trend the authors call "caretelization." In Canada, 37 per cent of long-term care beds are owned and operated for profit.
Based on the evidence, the authors call for decision-makers to fund public and non-profit long-term care, as well as to require and fund minimum standards of direct care. But some governments are headed in the wrong direction. In British Columbia, members of our health services division, the Hospital Employees' Union (HEU), are fighting a recent move by the Vancouver Coastal Health Authority that flies in the face of the evidence.
Under the guise of expanding and modernizing seniors' care, the health authority is closing two public long-term care facilities, replacing them with a private, for-profit home. The move has galvanized workers and sparked an outcry in the community. HEU has stepped up its "Care Can't Wait" campaign to stop privatization and boost staffing levels across the sector. The campaign demands higher minimum standards of care, with assurances that public funding goes to staffing, not profits.
In Alberta, our long-term care members are calling for the government to heed the evidence that public care delivers better results and, stop the growth of for-profit seniors' care. A new Parkland Institute report, Losing Ground, finds that the province continues to rely on privatized seniors' care, even though it doesn't measure up to public and non-profit care.
Mobilizing to protect Cassellholme, the only municipally-operated long-term care home in Ontario's Nipissing region, has paid off. In November, CUPE celebrated news the home will not be moving to a private, non-profit model.
Canada's aging population means it's past time for governments to get it right when it comes to seniors' care. Stopping the spread of for-profit care isn't just good public policy. Treating seniors and other vulnerable people well is at the heart of who we are as a society.