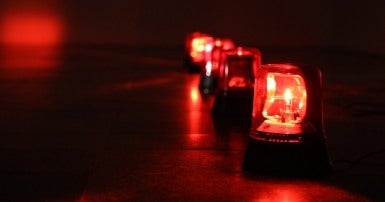 The Niagara Region Emergency Medical Service (EMS) is putting people's safety at risk by not providing paramedics and dispatchers the resources they need to serve patients, says Local 911 of the Canadian Union of Public Employees (CUPE 911).
The union is calling on Niagara EMS and the regional municipality to act now to avoid jeopardizing the health and safety of patients who desperately require immediate attention and care. The union is also calling attention to severe burnout and high injury rates among paramedics and dispatchers.
"For many years, paramedics and dispatchers in the Niagara Region have been understaffed and under-resourced as demand for emergency medical services continues to rise," said Jon Brunarski, president of CUPE 911 and an active paramedic. "These shortfalls rob us of the required capacity to respond to 911 calls in time and has severe consequences for patient care."
Trend of higher call volumes worsened during the pandemic
Prior to COVID-19, EMS call volumes had been rising steadily across Ontario. Brunarski noted that the pandemic exacerbated the crisis as call volumes have hit record highs over the past four months, but with no additional support for paramedics and dispatchers. 
"The situation has worsened over the course of the pandemic as we have been inundated with more calls without a corresponding increase in staffing and ambulances," he said.
"Patients who call 911 frequently have to wait for long durations to have us show up at their doorstep, because there are no ambulances available," Brunarski said.
"It is high time that Niagara EMS and the regional municipal government acknowledge what is happening, and focus on fixing the problem," he added. "They must hire more full-time paramedics, more full-time dispatchers and increase the number of ambulances on the road."
Off-load delays at hospitals contribute to ambulance shortage
A major contributing factor to lack of ambulance coverage is off-load delays at hospitals, as paramedics are unable to transfer patients due to a shortage of hospital beds. In the last seven months, nearly 350 patients in Niagara were left stranded for four to six hours due to off-load delays, with 63 spending more than six hours on EMS stretchers.
"Off-load delays at hospitals are absolutely horrendous for patients as they don't get the required care in time. At worse, being stranded at a hospital can be fatal," said Brunarski.
Off-load delays are a problem across Ontario but are particularly affecting EMS delivery in the region. Niagara Health's St. Catherine location has ranked last among 74 hospital sites for average off-load times for the last 11 months based on data from Ontario Health.
Ontario's lack of hospital capacity is the primary reason for off-load delays. Ontario has the least number of hospital beds per capita across Canada, due to dramatic cuts over the past 30 years whereby number of beds per 1,000 people has fallen from 4.8 in the 1990s to 2.2 today. The average across the rest of Canada is 3.2 hospital beds per 1,000 people.
High rate of burnout and injuries among paramedics
Due to intense workload pressures and understaffing, paramedics are routinely missing meal breaks and working overtime to provide emergency care. As opposed to hiring more staff, Niagara EMS has become reliant on overtime, contributing to burnout and injuries.
In comparison to the April to August period last year, sick time usage has increased 33 per cent for paramedics and 30 per cent for dispatchers in 2021.
"It's not sustainable for us to work twelve-hour shifts without a break. And it's not sustainable to work for months on end without time to rest and recuperate," Brunarski said. "Paramedics are simply burning out and getting injured."
Compounding the problem is the employer's vaccine mandate, as unvaccinated staff will be placed on unpaid administrative by December 8.
"The vast majority of paramedics in Niagara are vaccinated. And as a union, we continue to encourage members to get vaccinated. However, putting front-line workers on unpaid leave will only add to workload pressures for the rest of us," said Brunarski, who himself has been double-vaccinated.