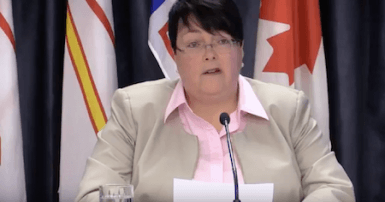 In an unprecedented move by the Provincial Government, Finance Minister Cathy Bennett undermined negotiations, with provincial employees represented by the Canadian Union of Public Employees (CUPE), during a news conference held today.
"CUPE Newfoundland Labrador is both disillusioned and frustrated by Minister Bennett's statement today, says CUPE NL President Wayne Lucas. "We had no notice that the employer was going public with bargaining details. We have never seen this done by the Province until now and, frankly, there was no need to do so."

"We are bargaining in good faith," says Brian Farewell, CUPE national representative. "It's commonly understood in negotiations that neither party should go to the media in an attempt to scuttle the process."
"The issues that Minister Bennett noted as benefits within our collective agreement have always been on public record. To imply otherwise seems to be an intentional effort to disrupt negotiations and mislead the public," says Farewell.
"It's interesting to note that as the Minister listed these benefits, she was not forthcoming about the extent of the concessions that the Government is demanding from workers," adds Farewell. "The Minister has revealed specifics to the public that our members have not even heard about yet, because we respect the bargaining process and recognize that those issues are still under discussion."
"These benefits in our existing collective agreement were earned by our members through many years of fair collective bargaining – often during times of wage freezes."
"Also, the protocol agreement mentioned by the Minister was, in fact, initiated by the unions and not the Province. It is a document that outlines the way proposals would be accepted by either side at the table."
"We have a right and a responsibility to be at the bargaining table to negotiate a new collective agreement. It is premature to go to conciliation after two or three days of bargaining. This is not the way to go about it," states Lucas.