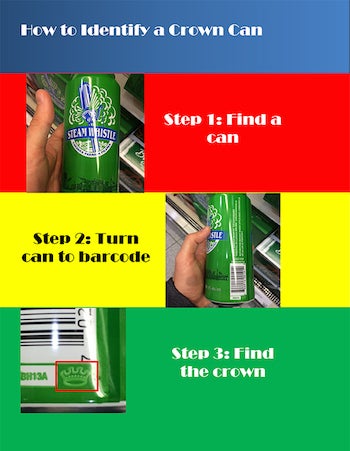 CUPE is encouraging its over 630,000 members across the country to support striking USW workers by boycotting beverages and foods in Crown Holding produced cans.
For over 18 months, 120 members of USW local 9176 members have been on strike at the Crown Holdings packaging plant in Toronto. The striking USW members are fighting back against contract concessions and union busting, including the employers demand for a 42 per cent pay cut for new hires.
Visit takebacksnomore.ca for more information on the strike, and to send messages of support for USW Local 9176
The Toronto plant is operating with replacement workers. It produces cans for many major brewers, including Molson, Coors, Labatt, Budweiser, Moosehead, Creemore and food companies such as Cotts, Baxters and Morgan Foods. One out of every three beverage and food cans produced in North America is from a Crown Holdings plant.
Crown Holdings produced cans can be identified by a Crown logo near the products bar code.
CUPE's National Executive Board passed a resolution supporting the national boycott of Crown Holding products, and made a donation of $10,000 to USW Local 9176.
Support USW Local 9176 on twitter @usw9176 #bottlesnotcans