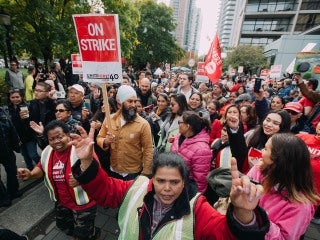 NDP Leader Jagmeet Singh was a welcome sight for striking hotel workers on the picket line in Vancouver on Thanksgiving Monday. Singh is the only federal party leader to come and show support for over 1,200 hotel workers who walked off the job over four weeks ago for more stable working hours and safer working conditions.
Picketers cheered the NDP Leader's arrival, many clamoring for selfies before Singh marched on the picket line with them. Singh has been proud to walk the picket lines from coast to coast throughout this election campaign – and prior to it as well.
It is a stark contrast to Liberal Leader Justin Trudeau, who only shows his face and pretends to be on the side of workers when he needs their votes.
Justin Trudeau's record on supporting workers speaks for itself. When postal workers exercised their right to strike in 2018, Trudeau and the Liberals were quick to invoke draconian back-to-work legislation – even faster than Stephen Harper did in 2011. He also betrayed retirees when he refused to stand up for pensions for workers at Sears across Canada, and at Stelco in Hamilton.
When push comes to shove, Justin Trudeau will always side with the rich and the powerful over the people that work to provide the services that we all rely on.
The NDP is the only party that will always fight for workers. Something not to be forgotten when heading to the polls on October 21.