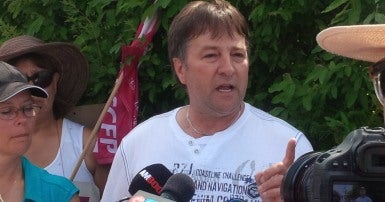 Charles Fleury, National Secretary-Treasurer, led a solidarity rally for striking Essex Library workers on Thursday, July 7, at Essex in South Western Ontario. Brother Fleury along with Ann Jenkins, CUPE Ontario Municipal Employees Coordinating Committee chairperson and Maureen O'Reilly, CUPE Ontario Library committee chairperson participated in the rally to show support for the striking CUPE 2974 members, who have been on strike since June 25.
"You are a strong and united group," said Charles Fleury, CUPE National Secretary-Treasurer. "You have strong community support and you have the full support of 635,000 CUPE members across Canada. Stay united and strong and keep up the fight."
The 58 striking library workers were forced on the picket line after management demanded changes to the sick leave plan, even though sick time is not an issue at their workplace. Essex NDP MPP Taras Natyshak, local library patrons and supporters, area CUPE members, and other local union members came to the rally to show support and offer encouragement to the striking workers.