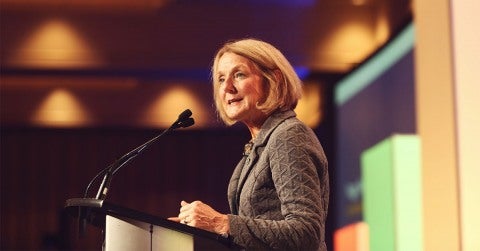 The fight for good jobs and public services starts at the bargaining table – but it doesn't end there, New Democrat MP Peggy Nash told delegates to CUPE's National Sector Council Conference.
"Collective action at the bargaining table needs to also be collective action politically," she said. Workers need laws that protect their rights to organize, outlaw scab labour, strengthen employment standards, and raise the minimum wage said Nash, pointing to the NDP's motion to introduce a $15 federal minimum wage.
She praised CUPE for being on the front lines pushing back against attacks on jobs and services. "CUPE has been the leading voice in Canada promoting public services," said Nash, who represents the Toronto riding of Parkdale-High Park and is the opposition industry critic.
Nash contrasted her own experiences in a good, unionized job at the start of her career with the harsh reality confronting young people today. Attacks on labour rights and the erosion of well-paying, secure, full-time jobs with pensions and benefits have created a bleak job market.
"It's not just unfair, it's unacceptable that young people today should be expected to have less than their parents," said Nash.
Canadians also deserve to have a stronger Canada Pension Plan, and access to Employment Insurance when they're out of work, said Nash. Conservative and Liberal government cuts have created a situation where just 17 per cent of unemployed workers in Toronto qualify for EI, and it's time to stand up and say no.
"It's time for us as a country to stop thinking it's okay to accept less," she said.
Nash said the Harper Conservatives are attacking unions as part of a broader agenda of silencing dissent. And for her, it's a badge of honour.
"They're doing it because they're afraid of you. They're afraid of union power, and so they should be. They know that a motivated, engaged and politically active union movement is a threat to them."
She outlined the NDP's vision of investing in infrastructure, post-secondary education, child care and other vital public services – an agenda that does more for the economy than corporate tax cuts.
"When we support our public sector, we create good quality jobs today and for young people in the future."
She thanked CUPE members for their support of the NDP. "Together, we are so much stronger than we are separately," she said.
"One thing that unites us all is that we have a vision of a progressive Canada. We know what Canada could be like. Together, let's create the Canada of our dreams."