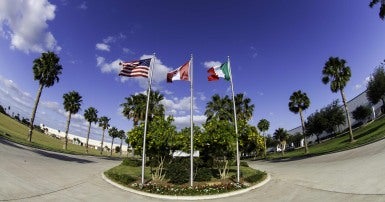 A showdown is looming over the future of the North American Free Trade Agreement (NAFTA), and Canada seems set to play nice with Donald Trump. But CUPE members don't want Prime Minister Justin Trudeau to trade away our public services, environmental protections, jobs, and rights.
Canada must go into any NAFTA renegotiation with a strategy for creating good jobs. We need manufacturing and services jobs with decent wages, pensions and benefits. Universal and accessible public services, and public infrastructure, are critical to a strong economy that isn't wholly dependent on the US economy.
CUPE demands that any NAFTA renegotiation:
remove NAFTA's investor-rights protections, known as Chapter 11
protect public services like health care, energy and public education
remove water as a tradable good, service and investment, and
strengthen labour and environmental protections.
But instead of taking a strong stand, Trudeau's response to Trump's victory is alarming. On NAFTA and Keystone XL, our government seems afraid of the Trump administration. In response to Canadian "sister marches" to the Women's March on Washington, the Prime Minister congratulated marchers on Twitter, but made no commitment to women's rights globally.
When it comes to trade, Trudeau actually pre-empted Trump, leaping in with an offer to renegotiate NAFTA right after the election – before knowing what Canada would have to give up and without considering what Canadians want to change.
Workers are scared what this will mean for their jobs. They're also worried about protecting our environment and maintaining strong relationships with American and Mexican workers.
Canada's primary goal in any renegotiation should be to get rid of Chapter 11. Since 1994, we have seen growing attacks on the power of governments to regulate in the public interest. Chapter 11 allows foreign corporations to sue the Canadian government. These rules have made Canada the most-sued country in the developed world.
For example, in 2007, ExxonMobil and Murphy Oil challenged Newfoundland and Labrador's requirements that energy corporations invest in local research and development. The corporations won, and were awarded $17 million in damages. As of 2015, Canada has lost or settled six cases, paying out at over $170 million in damages under NAFTA.
Even the Mulroney Conservatives agreed to shield some parts of the Canadian economy from NAFTA – including cultural production and some public monopolies like Hydro-Quebec. Any new free trade agreement must continue to exempt key sectors of the Canadian economy. Municipalities were also not included in NAFTA and they should continue to be exempt.
Removing all references to water will protect our collective resources from threats of bulk export, prevent privatization of water services, and ensure governments have the final say in managing this finite and precious resource.
When NAFTA was negotiated, labour and environmental protections were watered down into a side agreement that does not have any meaningful enforcement mechanism. The result is that big corporations tread all over environmental and labour rights. This is especially true in Mexico, where American and Canadian companies bully governments and weak unions into allowing them to violate all kinds of environmental and labour rights clauses. We know that Mexico – and the major corporations that have set up shop there – turns a blind eye to the "protection contracts" signed by "ghost unions." If NAFTA is renegotiated, labour and environmental protections must be written into the agreement itself, and any violations should result in trade sanctions.
Finally, these negotiations should not happen in secret. All Canadians, not just Prime Minister Trudeau and international trade minister Chrystia Freeland, need to decide if a NAFTA that works for Trump is an agreement that works for us.
As Canada's largest union, it's our responsibility to defend workers' rights, public services, and our environment. We stand in solidarity with workers and members of civil society in the United States and Mexico. Together, we will fight for a fair agreement that supports us all.
We urge the Trudeau government to stand with us and do the same.