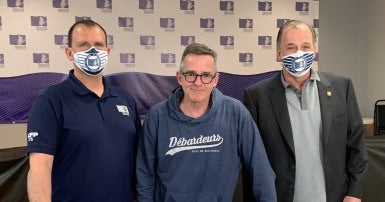 The Syndicat des débardeurs du port de Montréal (CUPE 375) issued a notice of a partial strike on Saturday in response to a notice from the employer that announced they would be suspending the job security provisions in the collective agreement effective Tuesday.
"Last Friday following a good week of negotiations where the work was going well, we were surprised to receive a notice from the employer, informing us that in 72 hours, they would be exercising their lockout rights," explained CUPE national representative Michel Murray.
In response to this notice, the union responded with a notice of a partial strike on Saturday. Starting Tuesday, longshore workers will not be working overtime and will not extend their shifts beyond the regular eight hours. In addition, starting Saturday, April 17, workers will begin striking on Saturday and Sunday indefinitely.
Day, evening and night shifts from Monday to Friday will be worked normally.
"This way, we are putting pressure on the employer without disrupting clients who are awaiting their goods. To be quite honest, we were surprised by the action taken by the employer. When they left the bargaining table on Friday, there were no signs they were about to act this way. We still believe in negotiations and are eager to return to the table," added Murray.