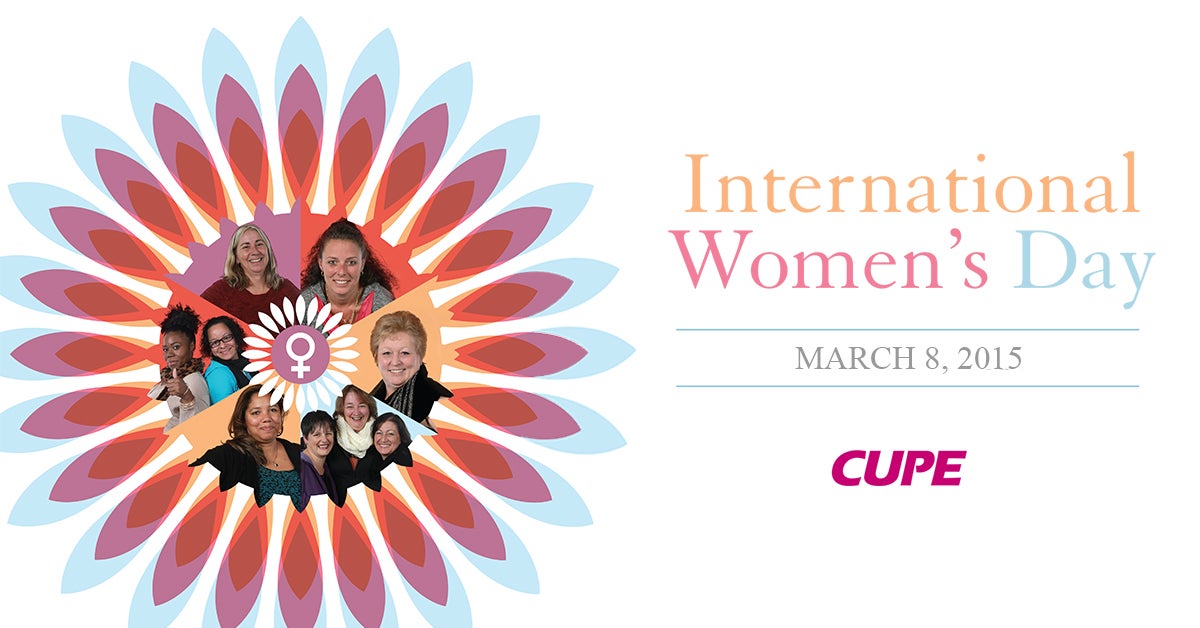 March 8 is International Women's Day. Across the country, CUPE will participate in community events celebrating women's activism and reaffirming our commitment to gender justice.
CUPE has a number of campaigns that address women's rights as workers and community members. We encourage you and your local to use International Women's Day to promote these initiatives.
We're gearing up for the federal election this year, and women's issues are a top concern.
CUPE is part of Up For Debate – a coalition campaign to get all federal political parties to make meaningful commitments on women's issues. Please endorse the campaign at upfordebate.ca and link it to your political action work on gender-based violence, economic inequality and women's leadership.
CUPE also supports the Solidarity Campaign pressing for a national public inquiry and strategy on missing and murdered Aboriginal women and girls. The Campaign is led by the Canadian Feminist Alliance for International Action (FAFIA) and the Native Women's Association of Canada (NWAC).
CUPE is involved in the 4th World March of Women, particularly in Quebec, where feminists have been planning events for the April 24th international day of action. To organize an event in your workplace or community, find out more at mmfqc.org or email equality@cupe.ca.
We want to highlight a few campaigns where CUPE is a lead organization and gender equality features large. Please get involved, if you aren't already.
Host a kitchen table conversation about child care, post your child care story and encourage others to share theirs. Visit rethinkchildcare.ca to find out more.
Tell your MP why health care is a critical issue for women as workers, unpaid caregivers and patients – and fight the $36 billion planned federal cuts. Email sshah@cupe.ca for a lobby kit and email your MP via SaveOurHealthcare.ca.
See the latest research on pensions and equality and on how public sector wages are narrowing the pay gap. You can use this information in your anti-privatization and pension campaigns.
At our recent national human rights conference, CUPE members learned about some of the latest research and campaigns on women's equality and developed local strategies in workshops on wage discrimination, pensions and other priority issues for women.
These are just some of the ways CUPE is recognizing women's work and fighting for gender justice at work and in our communities.
On International Women's Day, we applaud our sisters' work, and we re-dedicate ourselves to gender equality.
In solidarity,
Paul Moist
National President
Charles Fleury
​National Secretary-Treasurer