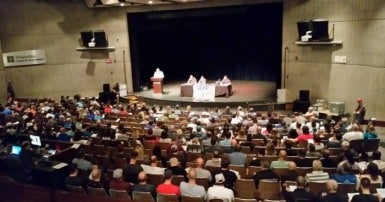 At a union meeting this morning, the Réseau de Transport de Longueuil (RTL) bus drivers voted 98% in favour of a strike mandate, to be triggered at the appropriate time.
The RTL Bus Driver's Union, Local 3333 of the Canadian Union of Public Employees (CUPE), began negotiating a new collective agreement this spring. The drivers have been without a contract since January 1, 2017. The negotiations stalled on the calculation of travel times.
According to the drivers, the RTL imposes unrealistic times. The resulting frequent delays are a major irritation to both users and drivers. The drivers and their union are asking for realistic trip times. What they want is a quality, punctual service, for the benefit of everyone on board.
"RTL users don't have it easy. Too often, they're piled in like sardines, and trips are late or cancelled outright. But transit users are entitled to a service that enables them to arrive at their destination within a reasonable and predictable time frame. The RTL needs to plan its trips better," according to Michel Latulippe, CUPE union advisor.
"Customer dissatisfaction is a bus driver's worst enemy. Drivers do everything humanly possible to be on time and to provide excellent service. That's why travel times are their number one concern in the ongoing negotiations," explained union president Sylvie Champagne.
Beginning in June and throughout the summer, the bus drivers and their union will address transit users and the public in a variety of ways. They will demand rapid results towards service improvement. Their message will be summarized by the slogan: "Passenger service is our priority." Unless there is progress, they could eventually trigger the strike.
The RTL bus driver's union (CUPE 3333) has approximately 750 members.
With more than 110,000 members in Quebec, CUPE represents some 7,100 members in urban transport in the province. CUPE is also present in the following sectors: health and social services, communications, education, universities, energy, municipalities, government corporations and public agencies, air transport, the mixed sector and the maritime sector.