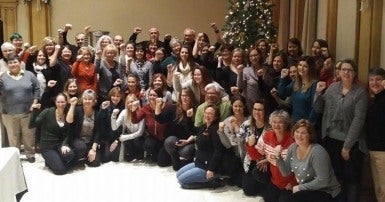 In a strong show of solidarity, striking Essex County Library workers voted overwhelmingly to reject management's so-called 'last offer' to send a clear message to the Library Board "that workers will not be bullied into accepting a contract dictated by management, and they will stand strong to reach a fair contract reached through the collective bargaining process," says Canadian Union of Public Employees (CUPE) 2974.
"Our message has been consistent since day one of our strike – management must return to the bargaining table to truly bargain to reach a fair deal, that's the only way the strike will end," says Lori Wightman, spokesperson for CUPE 2974. "Trying to coerce our members to accept a contract that's predetermined will not work. What will work is for management to show respect and work towards a fair deal that's negotiated, not dictated."
"Instead of threatening to open libraries without the library workers, this board should return to the bargaining table to resolve this strike in a respectful way," continued Wightman. "There appears to be no true leadership on the Library Board. They are more interested in bullying and making threats than showing the flexibility they need to end this almost six-month strike."
The workers have been on strike since June 25. While the union has shown flexibility by offering different proposals on the outstanding issues, the employer has stubbornly stuck to demands for changes that it wants over sick time and short-term disability.
"We want to thank the community for their continual support," concluded Wightman. "It is never easy to be on strike, walking in the sun, rain, wind and, now, the snow, for almost six months. But we are standing up to be treated fairly, and with respect, and knowing that our community is standing with us makes our resolve even stronger."