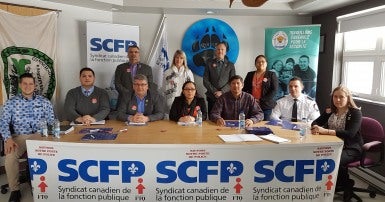 The Canadian Union of Public Employees (CUPE-Quebec), representing police officers in Lac-Simon in the Abitibi region, this afternoon held a joint press conference with the Council of the Anishnabe Nation in order to ask two levels of government to assume their responsibility and break the budget deadlock that could lead to the closure of the local police department.
If there is no agreement by March 31, the Sûreté du Québec will take over and 24 police officers and administrative staff will lose their jobs, which will be a tremendous loss for a community already affected by poverty.
"During the last election campaign, Prime Minister Justin Trudeau made several promises to Aboriginal peoples. He committed to investing billions of dollars to improve the lives of First Nations. He launched the national investigation into missing and murdered Aboriginal women, which we welcome. But now that he has been elected with votes from Aboriginal peoples, he is dillydallying on funding for the Lac-Simon police department. If he really cares about the security of the Anishnabe community, the Prime Minister must immediately restore adequate funding for the police station," said Denis Bolduc, president of CUPE-Quebec.
As for the provincial government, representatives of CUPE and the Anishnabe Nation are asking it to show leadership and to pressure the Federal Government to release the funds promised to Aboriginal communities.
A Lac-Simon police officer, Thierry Leroux, died during an intervention with a troubled individual. The subsequent investigation by the CNESST [Commission nationale des normes, de l'équité, de la santé et de la sécurité du travail – Commission on workplace standards, equity, health and safety] delivered an opinion that two cars and four patrol officers are required 24/7 to ensure the total safety of the police department.
Before Officer Leroux's tragic death, there was only one car and two patrol officers on the road. The Association des policiers provinciaux du Québec (APPQ) representing officers of the SQ, also stated that four officers and two cars are required at all times.
The Council of the Anishnabe Nation lacks sufficient funds to meet the demands of the CNESST. In the event of the closure of the Lac-Simon police department, the Sûreté du Québec will assume their duties.
With more than 110,000 members in Quebec, CUPE represents about 70% of the province's municipal employees, or 31,600 members. CUPE is also active in the following sectors: health and social services, communications, education, universities, energy, government corporations and public agencies, urban and air transport, and the mixed sector.