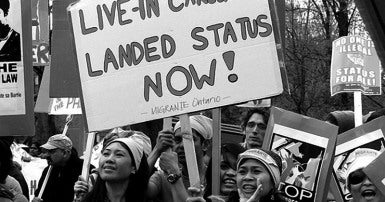 Today we pay tribute to and express our solidarity with migrants around the world. On this day in 1990, the United Nations General Assembly adopted the International Convention on the Protection of the Rights of Migrant Workers and Members of Their Families. Since 2000, the international community has officially recognized this day as an opportunity to draw attention to the human rights and fundamental freedoms often denied this courageous and ever-growing population.
The number of forced migrants, refugees, and displaced people in the world has increased to close to 300 million – a humanitarian crisis not seen since the devastation of WWII. The struggle of the Rohingya people fleeing violence in Myanmar (Burma), formerly undocumented youth and students under the Deferred Action for Childhood Arrivals (DACA) in the United States who now face deportation, or the nearly 5,000 migrant Filipino workers who leave their country every day in search of work, remind us that poverty, unemployment, war and climate change underlie this crisis.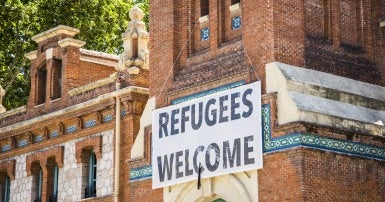 When the UN Summit on Migrants and Refugees came out with a declaration to work for a Global Compact on Migration, International Migrants Alliance Chairperson Eni Lestari, a migrant leader who attended the CUPE National Convention in October, spoke before leaders of UN Member States in the opening plenary of the Summit. In her speech, Lestari urged UN Member States "to commit to justice, to a development that does not tear families apart and to a future that relies on the strength of its people, not to the continued export and exploitation of our labour." At the CUPE Convention, Lestari reminded us that "We are living in a time of increasing forced migration because of economic conditions, war and now climate change. This displacement of millions of vulnerable people is causing chaos around the world." She further added, "We need policies at the regional, national and international level to protect migrants and build sustainable societies. We need complete structural change."
In Canada, thousands of migrant workers struggle daily on farms, caring for our children and elderly, cleaning our homes and offices, often in isolation and under dangerous conditions. The country has received thousands of migrants fleeing the US from countries such as Haiti, and we continue to resettle tens of thousands of migrants fleeing the violent war in Syria. There is more we can do. Migrant communities and allies are organizing to hold our government accountable in meeting international standards, enforcing the laws where rights are being violated, and to ensure there continues to be a space for the voices of migrants to be heard.
Here are some ways CUPE members can express our solidarity with migrants in Canada:
As frontline workers in schools, cities, and as health care and social service providers we are well positioned to become involved with the sanctuary movement (http://canadianlabour.ca/sanctuary-cities).
Support for the immigrant and migrant worker-led organizing happening at the Immigrant Workers Center in Montreal (http://iwc-cti.ca/).
As recently as last month, the Migrant Workers Alliance for Change was before the Federal Standing Committee on Citizenship and Immigration calling for access to social services, benefits and permanent immigration status for all migrants in Canada; they are asking us to sign their petition: http://migrantrights.ca/en/nodiscrimination/.
CUPE is committed to working with migrants and allies in building a better world, where workers are not forced to leave their homes, separated from their children and families in search of work and safety.