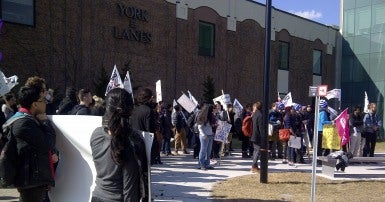 The Union representing part-time student parking, Closed Circuit Television (CCTV) camera operators and GoSafe (walk-home program) escorts at York University warned today that their employer is ignoring their own recent history of catastrophic labour relations by refusing to seriously negotiate with their workers.
"Quite frankly, it's extremely troubling that an institution that went through the kind of labour strife York University went through last year doesn't feel the need to modify its approach to dealing with its workers," said Karmah Dudin, bargaining team spokesperson for CUPE 1356-2.
After five days of bargaining over the past three months, the parties reached an impasse when York refused to respond to the union's financial proposals.
"York's bargaining team demanded that we withdraw our 'unreasonable' proposals before they would respond. They wouldn't identify what they considered unreasonable, but apparently it includes paying students the same rate as non-students performing exactly the same work, and providing sick days. Since we can't get a response, the union has been left with no alternative but to request a Conciliation Officer from the Province," said Dudin.
During collective bargaining between a union and an employer, either party can request a conciliation officer from the Ministry of Labour if they feel negotiations are not progressing. The conciliation officer's job is to assist the parties towards the goal of a negotiated settlement.
Dudin said the union hopes that the appointment of a conciliation officer, along with the additional resources available to the parties when the conciliation process is triggered, might spur York towards a more serious approach to bargaining.
Last year, York University's contract professors, teaching assistants and graduate assistants were on strike for 143 days, the longest strike in the post-secondary sector in Canadian history.