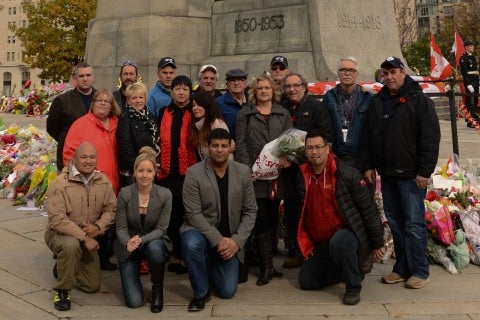 CUPE's National Health and Safety Committee took time today to lay flowers at the National War Memorial in Ottawa, where Cpl. Nathan Cirillo was killed last week. The committee's biannual meeting is taking place in Ottawa this week, and committee members agreed it was important for them to pay take the opportunity to pay their respects.
"This young man was killed serving his county. His death and the events of last week had a profound effect on us," said Committee Co-chair Dolores Douglas. "It's all so closely tied to our committee's work, we felt like we needed to come down here and be part of the tribute."
Douglas laid a bouquet wrapped in a CUPE ribbon on behalf of the committee at the foot of the memorial, among hundreds of other tokens already placed in recent days.
Dozens of other people were also there paying their respects. Members of the media were among the crowd, gathering reaction.