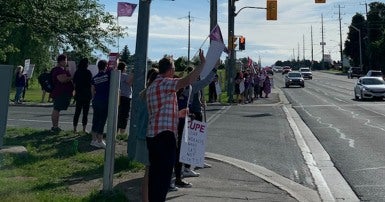 Front-line education workers rallied outside of the Peterborough Victoria Northumberland and Clarington (PVNC) Catholic District School Board office on Monday evening, urging trustees not to pass the 2022-2023 budget as it was presented because it contained staffing cuts that will harm the quality of education for students.
"PVNC trustees have a choice to make," said Nora Shaughnessy, president of CUPE 1453. "It's either a budget that funds enough staff to support students, properly clean schools, and keep everyone safe, or it's more damaging cuts that directly and negatively affect students."
PVNC Catholic District School Board has announced it plans to cut 65 frontline staff, including 43 educational assistants.
"Custodians need to know there'll be enough of them to fight the next wave of COVID-19. Clerical workers go in early and stay late – working unpaid time – to protect students' safety and ensure the smooth operation of our schools. Educational assistants see that more of them must be hired to provide the one-on-one supports students need and parents demand. Early childhood educators have to be in every kindergarten classroom to give our youngest students the hands-on experiences that four- and five-year-olds crave," explained Laura Walton president of CUPE's Ontario School Boards Council of Unions (OSBCU).
"The lowest-paid education workers are on the chopping block," said Walton. "These are people who have worked throughout the pandemic – the backbone of every community's schools. No one voted for more cuts so it's time for Peterborough Victoria Northumberland and Clarington trustees to stand up to underfunding and pass a no-cuts budget."
The Canadian Centre for Policy Alternatives (CCPA) calculated that the Ford Progressive Conservative government cut education funding by $800 per student (adjusted for inflation) over its first term. With two million students in Ontario's schools, that translates into a $1.6 billion cut in funding in the 2021-2022 school year – money that could be used to improve supports for students, increase staffing levels, and raise the wages of education workers.
"Whether schools across the province are provided enough money to stop damaging cuts is a political choice made by our elected representatives," said Walton. "Ontario is the richest province in Canada and the money controlled by only 59 billionaires has increased by more than $100 billion during the pandemic. There's no excuse for the provincial government or this school board to skimp on our children's future."