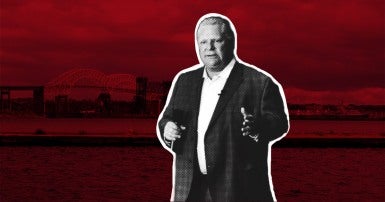 The Ford government's escalating rhetoric about closing the borders and banning international students is racist dog whistle politics that has nothing to do with fighting COVID-19, and the Federal government must not enforce border controls unfairly targeting anyone, said CUPE Ontario.
"This is part of a long-standing pattern by the Ford Conservatives of evading responsibility and blaming anyone but themselves," said Fred Hahn, President of CUPE Ontario. "Let's be clear. No matter the changing circumstances with this pandemic, if the Ford Conservatives had done their job months ago, listened to their own science table, and put in place real measures that would help stop community and workplace spread, we would not be in this situation with a grueling third wave. We cannot give them an out. Let's stay focused on what really matters, like legislating 10 permanent employer paid sick days; real, consistent, and clear workplace protections; and vaccinations for all front-line workers."
Yesterday, the Ford Conservatives published Facebook ads with the headline "Secure Our Borders", asking people to support a ban on all non-essential travel into Canada. This follows reports that the Ford government has requested that the Federal government ban all international students from returning to Ontario. In response, public health experts have said that international travel is a relatively minimal source of transmission, and others have noted that non-essential travel has already been banned, suggesting that this proposal isn't necessary.
Of the 21,000 graduate student workers CUPE Ontario represents, roughly 7,000 are international students.
"International students are not the problem," said David Simao, Chair of CUPE Ontario's University Sector. "If people who are deemed 'Canadian' with permanent residency can return to their homes in Ontario, so should international students. Any form of targeting is simply trying to divert attention from the reality that Minister Ross Romano has not funded post-secondary institutions to ensure they're safe for all. It is just blatant inequality and, frankly, racism.  
"There is a long and tragic history of scapegoating racialized immigrants that has played out here time and again over the years, and we have to oppose any attempt to resurrect these old, racist, and xenophobic tropes," said Lisa Skeete, member of CUPE Ontario's International Solidarity Committee. "International students and workers did not cause nor fuel the crisis within the borders of Ontario. Ford needs to take responsibility, the Federal government has to resist pressures to support him, and all Ontarians must recognize this escalating rhetoric for what it is."