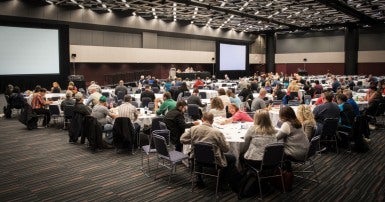 CUPE members from across Canada continued the important conversations between workers in each of our sectors with our national sector meetings on Sunday. Members shared some of the challenges they're facing and how they're working together to find solutions.
Education sector faces cuts, staff shortages, tough bargaining 
Across Canada, most CUPE locals in the education sector are reporting hard fights with employers and provincial governments. 
Short staffing is a problem in most provinces, with locals reporting members being denied leave, working sick, and/or working with fewer staff in classrooms to cover the load. 
The best province to be an education worker is easily the NDP-led B.C. Workers have won annual 2 per cent wage increases, $3 million in benefit improvements, and a provincewide safety audit of schools. 
But elsewhere, CUPE activists are fighting back. Melissa Pender of Newfoundland & Labrador reported that after being offered four zeros, loss of severance, and more cuts, workers are planning a 'boots on the ground,' campaign. "Not this time, not this time," said Pender.  
Militance, organizing required for better health care  
With Canada's health care system suffering the strain of underfunding from both federal and provincial governments, CUPE health care members from across Canada are fighting back with militance and active organizing in their communities, Sunday's sector meeting revealed.  
Many delegates said they are using workplace protections under their collective agreements to fight for improvements in patient care, to stop escalating rates of violence against workers, and to defend public health services from privatization.  
Among all classifications of workers, health care staff have the highest rates of violence directed at them. A CUPE study found that 78 per cent of personal support workers were physically assaulted, and 44 per cent sexually assaulted, in the last year. Ontario CUPE health care sector members are calling for federal legislation to criminalize violence against health care workers.  
Delegates agreed that the upcoming federal election provides a key opportunity to elect candidates that support a fully public comprehensive pharmacare program, and dedicated funding for long-term care, and that oppose two-tier private health care.  
Protecting jobs and services in our cities and towns 
CUPE's nearly 150,000 municipal members are under mounting pressure from privatization, cuts, and employer demands for concessions in bargaining. But members in the sector are organizing to push back and protect good jobs and strong public services. 
Delegates at the municipal sector meeting talked about protecting safe drinking water for all, including for all Indigenous communities, and fighting for affordable housing, as two of the ways CUPE works to build better communities.  
The Liberal government's Canada Infrastructure Bank is a new privatization threat in the sector. Precarious work is also on the rise in municipalities, with one-third of CUPE municipal members holding jobs that are casual, part-time or auxiliary.  
Margarita López, President of SINTRACUAVALLE, a union representing public water workers in Colombia, updated delegates on the fight against water privatization in her country (including a recent win preventing a public-private partnership), while Montreal City Councillor Robert Beaudry outlined his local government's strategy to boost affordable housing. 
Post-Secondary Education Sector: Combatting the rise of hate on our campuses 
Delegates were inspired by a presentation at the post-secondary education forum, "The Rise of Hate and What We Can Do About It." There was an acknowledgement in the room that the rise of fascism can be seen on campuses across the country, and that workers have a vital role to play in stomping it out. 
With the federal election just over two weeks away, members also discussed election readiness. The forum also saw visits from National Secretary-Treasurer, Charles Fleury, Regional Vice-President, Judy Henley, and CUPE Nova Scotia President, Nan McFadgen.  
The meeting wrapped up with a collaborative discussion about the importance of prioritizing resolutions that will hit the convention floor throughout the upcoming week. Topping the list of issues were finding ways to indigenize our campuses and creating tools for combatting precarity. 
Mental health, post-traumatic stress are key issues for emergency and security   
At the Emergency Services Sector forum, a number of common issues and themes emerged from the regional reports, despite considerable differences in how emergency services are structured and delivered in different provinces.  
Mental health in general, and post-traumatic stress disorder in particular, were priority concerns, along with the threat of privatization. Many provinces are also facing recruitment and retainment challenges. 
Following the regional reports, labour lawyer and former paramedic John McLuckie delivered a presentation on the status of cannabis regulations as they affect workplaces one year after legalization. 
Fighting back against austerity in our libraries 
Sunday afternoon's meeting for CUPE library workers focused on the issues of underfunding and austerity in the sector. Delegates shared stories of how tighter budgets have weakened public spaces that act as social hubs and non-discriminatory spaces. For many isolated people, libraries often provide the only social interactions they experience. 
Members also called for increased participation in CUPE's National Library Committee, particularly for CUPE library workers from Manitoba and Saskatchewan. The application deadline to sit on the committee is November 4th. Applications must be approved by the applicant's local and provincial division. 
Social services members brainstorm solutions 
Chronic underfunding, workplace violence, precarious work, and the harmful impacts of restructuring continue to plague the delivery of social services across the country, delegates attending a sector forum on Sunday agreed before breaking into groups to discuss solutions. 
"We are one year into a Ford government that is on a strong path to funding cuts, destroying services, dismantling everything and restructuring everything," said Ontario sector chair Carrie Lynn Poole-Cotnam. 
Despite having a worker-friendly NDP government, CUPE 1936 President Sheryl Burns said that community social service workers in B.C. increasingly face "Sophie's Choice"-type situations, due to chronic understaffing, where they have to make tough decisions about who to care for. 
Members discussed a range of solutions—from combatting workplace violence by ensuring that all incidents are properly reported, to improving local activism through member-to-member engagement, building community engagement through public information sessions, and using political action committees to increase lobbying efforts. 
Exploring solutions for better child care 
CUPE members attending the child care sector meeting heard from two panelists who provided encouraging news from both Quebec and British Columbia experience with universal child care.  
Lee-Ann Lalli, CUPE child care sector co-chair and an early childhood educator from B.C., discussed the new child care program introduced by the provincial NDP government in her province. Christa Japel, a professor at the Université du Québec à Montréal, discussed the Québec child care model. The panelists shared insights on both gains achieved and challenges remaining in their provincial models. 
Child care workers attending the forum also took time to discuss the pressing challenge of retention and remuneration of early childhood educators, and the more global question of what universal child care would like provincially and nationally. 
Technological Change: A Concern for the Communications Sector 
Technological upheavals were the focus of discussions at the Communications Sector Meeting.  
Technological changes such as artificial intelligence, automation and 5G cellular transmission are already having a huge impact on jobs and workplaces. They also make it easier to outsource, and often cause job losses in the communications sector. 
In fact, all sectors must be prepared to face these challenges because they will soon affect all of our workplaces. According to the delegates in attendance, our union should pursue a more systematic reflection on these issues.  
Other priorities for the sector include taxing web giants and foreign online providers and protecting people's privacy. 
The Energy Sector Wants a Just Transition 
The energy sector faces many challenges, the most glaring being the climate crisis, technological change and privatization. The issues vary depending on the province and the type of energy, but there is a consensus on one point: CUPE must have a clear strategy on the long-term sustainability of the sector. 
In the coming days, delegates will have to think about whether this sustainability can be achieved through a new CUPE energy policy that will encompass the sector's key issue: the just energy transition.  
CUPE represents 38,000 members in the generation, distribution and transmission of electricity. They are working in hydroelectric, nuclear, fossil fuel and wind power plants, both in the public and private sectors. 
Fighting to save our transportation infrastructure 
As governments develop new methods to undermine transportation infrastructure across Canada, CUPE transportation workers are facing more than just threats to their livelihoods, delegates at Sunday's sector meeting agreed. 
The refrain from transportation workers across the country was that workers' safety, and the safety of their communities, is being put at risk by a combination of governments looking to remove the financial responsibility of maintenance and operations from their books and by an ever-growing number of private contractors and consortia with little or no practical experience. 
The end results are poorly maintained highways (especially in harsh weather), a shrinking pool of jobs, and difficult, dangerous working conditions. 
CUPE 1190 President Brent Wiggins, representing general labourers employed by Transportation New Brunswick, noted some of the issues facing his members. The 'crazy hours' forced on snow plow operators means that these members are often working impaired through exhaustion. 
Participants also discussed the importance of mobilizing members and their community allies and keeping them engaged.