Graham Cox | CUPE Research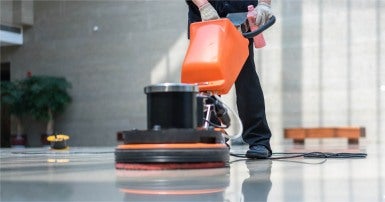 At Guelph University, the employer has spent a decade using attrition to actively reduce the number of custodian and support employees.
The situation went from bad to worse: 39 temporary workers stuck on three-month contracts which were constantly being renewed – up to seven years for some workers. Along with this increased precarity, cleaning standards dropped from "Moderate Dinginess" to "Unkempt Neglect" as set by the university's own standards.
Bargaining took place from November 2017, to March of this year. On the first day of bargaining, the university administration told CUPE 1334 that they were going to outsource the 39 positions, despite collective agreement language ("No regular full-time employee shall be laid off due to contracting out") which prohibits such a move.
In response, the Ontario University Workers Coordinating Committee launched an online and ground campaign to highlight the administration-reduced cleanliness standards and mobilize members to defend their work. A 96 per cent strike mandate was achieved. Negotiations focused on stopping the outsourcing of the work and moving the "temporary" workers into full-time work.
Through the collective work of the local and broader CUPE campaign support, the local was able to negotiate the creation of a new "Custodian 1" position that assumed the tasks that were going to be outsourced. A job rate of $17.75, with full benefits, was established and the probation period was waived for all current temporary workers.
Plus, the bargaining team achieved full benefits and pensions for temporary workers!
Work got a lot less precarious for our members. All 39 previously temporary workers were offered regular full-time positions: 14 custodian 3s, 14 custodian 1s and 11 secondments. Six months later, all 39 custodians have achieved custodian 3 or 4 levels and the university is now hiring new custodians at level 1.
The local also negotiated letters of understanding stipulating no lay-offs and no attrition for the term of the collective agreement. It also reached agreement that temporary workers would only be used to cover long-term disability when no regular full-time employee wanted a secondment to that position.
If your local is facing similar pressures, remember that a strong strike vote – and a public campaign – can make the difference!