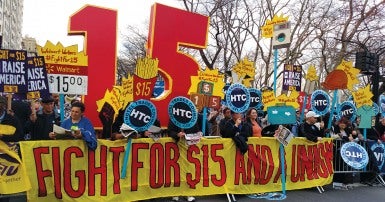 The fight for a $15 minimum wage gained a lot of momentum with protests in over 200 cities across Canada and the US on April 15. The protests were reportedly the largest by low-wage workers in US history.
Here's a roundup of some recent analysis on a higher minimum wage:
Broadbent Institute fellow and economist Angella MacEwan has done some mythbusting about who low paid workers are. She notes that a majority of workers earning less than $15 per hour are over 25 years old. More than a third are women aged 25 to 64. And 80 per cent of them are not students.
Visit broadbentinstitute.ca for the full story.
UBC economist David Green explains why it makes good economic sense to increase the minimum wage to $15. Higher minimum wage leads to lower turnover rates, which creates more stability for both workers and employers, reducing costs.
Find the report at policyalternatives.ca
RankandFile.ca has assembled a reader on the Fight for 15 with stories from across the country.
Find out more and get involved at RankandFile.ca
Unfortunately, even $15 per hour is no longer enough to make ends meet in a big city like Toronto, where Kaylie Theissen of CCPA-Ontario calculates the living wage to be $18.52/hour.
Check out the report at policyalternatives.ca
CUPE is also committed to a higher minimum wage. At the 2013 CUPE National Convention, delegates voted to bring the wages of the lowest paid CUPE members up to a minimum rate of $18 per hour by 2018—an increase that would raise the standard for all workers.